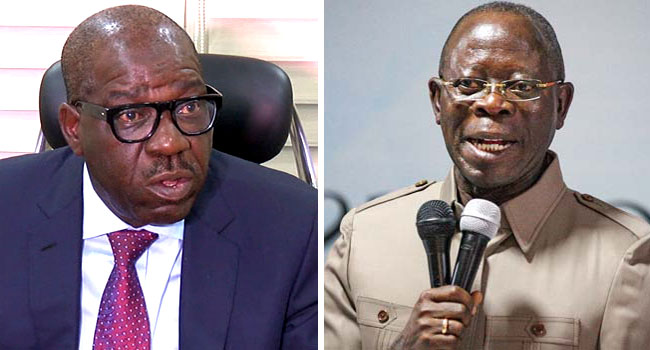 Suspended national chairman of the ruling All Progressives Congress, Adams Oshiomole has revealed that he wants the embattled governor of Edo State, Godwin Obaseki to join the opposition Peoples Democratic Party, PDP.
It will be recalled that on Tuesday, Obaseki resigned his membership of the party after he was disqualified from contesting by a screening committee over discrepancies in his HSC and NYSC certificates last week.
Speaking during a recent interview with AIT, Oshiomole stated that he would like Obaseki to join PDP, as the party originally exposed the issues with his certificate.
"We want him to go to PDP because it was PDP that exposed him in 2016. They filed a case at the federal high court amplifying the forgery and inconsistencies in his certificate."
"It's not APC, he was with us. We just manage…Thank God PDP filed out of time", he said.
Oshiomole also expressed happiness at Obaseki's exit describing it as "Good riddance to Bad rubbish".