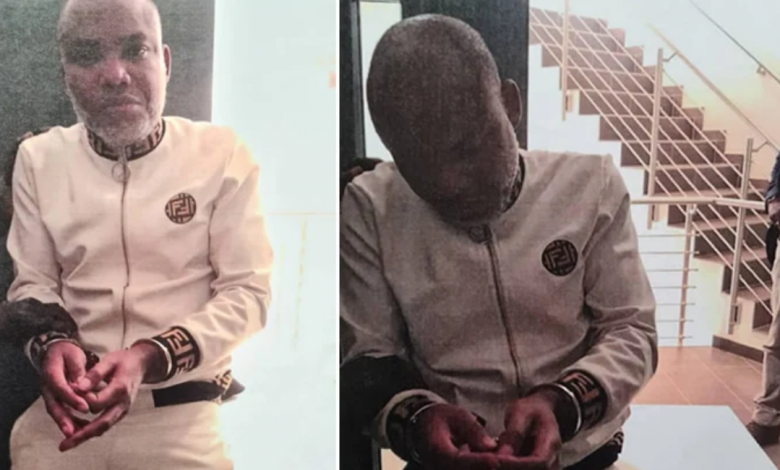 A top security personnel has revealed that officers of the Eastern Security Network (ESN) are plotting to launch an attack if Nnamdi Kanu transfered to Kuje prison.
Recall Nnamdi Kanu who is the leader of utlawed Indigenous People of Biafra (IPOB)  is currently being detained in the Department of State Service (DSS) detention facilities, pending the determination of his trial
Nnamdi Kanu through his counsel asking the court to transfer him to the prison, alleged 'cruel' treatment in the hands of DSS personnel at their detention facility in the agency's Head Office in Abuja.
However, a top-ranking officer of one of the security agencies hinted PRNigeria that: "We have uncovered the grand plan of a looming attack on Kuje Correctional Facility. This is sequel to Nnamdi Kanu's plea to the Court to have him moved to the Kuje Prison from the detention facility of the DSS."
According to the security operative, the plans of the IPOB fighters is to ensure they get Kanu out at whatever cost.
"We are aware of the motives of some of his supporters to intimidate and harass judicial and security officers to do their biddings through petitions, propaganda and blackmail so that he could be transferred to the prison which they could easily attack as they have done to many Police Stations and Correctional Facilities in the Southeast, in the last six months."
The officer said that prominent individuals who are arrested and detained at the DSS facility are normally given superior treatment, compared to what they stand to get at Police cells.
The officer cited series of attacks on security personnel and their facilities in the South-East by IPOB and Eastern Security Network (ESN) where many lives of innocent citizens and properties were lost.
"For instance, in April this year, the police confirmed that IPOB/ESN militias were behind the attack on Imo Prison with sophisticated weapons such as General Purpose Machine Guns (GPMGs), Sub-Machine Guns (SMGs), AK49 rifles, Rocket Propelled Grenades (RPGs), Improvised Explosive Devices (IEDs) after razing the state Police Headquarters with vehicles parked in the premises.
"Nnamdi Kanu even had the gut to celebrate the destruction when he emphasised via his verified Twitter account that no soul deserves to be locked up in Nigeria's prison. Imagine him now saying he prefered the same prison facility
"His lousy, callous and inciting threats were some of the pieces of evidence that our foreign partners considered in justifying the need for his repatriation to face his trial in Nigeria after jumping bail…"
Justice Binta Nyako, who first granted him bail which he jumped, had revoked the bail and ordered his arrest anywhere in the world "which prompted the action we took for his return to Nigeria.
"Has any country come out to support him or condemn the action we have taken?" the officer asked.