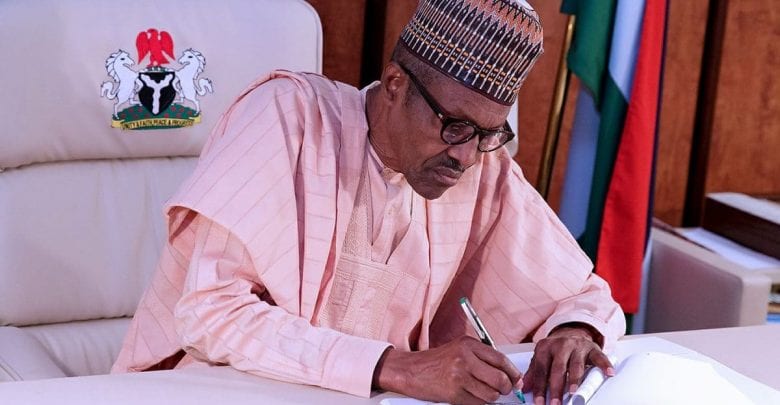 Since he came to power in 2015, President Muhammadu Buhari has made various controversial appointments.
We bring our readers a round up of some of these 'illegal' appointments.
Appointment of party member as INEC commissioner
President Muhammadu Buhari in October 2020 appointed his Personal Assistant on Social Media, Lauretta Onochie, as a resident electoral commissioner of the Independent National Electoral Commission representing Delta State.
This triggered public outrage and a lawyer, Monday Ubani, wrote to the Senate Committee on INEC objecting to the confirmation of Onochie.
The action of President Buhari is against Section 152 of the Electoral Act which provides that:
"No person holding an elective office to which this act relates or a registered member of a Political Party shall be eligible for or be appointed to carry out duties of a returning officer, an electoral officer, presiding officer or Poll Clerk."
Appointment of dead people into key positions
President Buhari in 2017 appointed six people into position as board members for various parastatals and  agencies.
In a reflection of what is clearly a lack of oversight, six deceased individuals were nominated. They include: Francis Okpozo, Donald Ugbaja, Garba Attahiru , Umar Dange Sokoto, Magdalene Kumu and Christopher Utov.
Some reports said the list also contained names of ex-convicts and appointments into a private firm's board and a government agency whose board members are required to be elected by law.
Again in 2020, Mr Buhari appointed Tobias Chukwuemeka Okwuru as a member of the board of the Federal Character Commission, two months after he passed on.
Unqualified NAPTIP DG
In late 2020, the president also appointed Imaan Sulaiman-Ibrahim as the new Director-General of the National Agency for the Prohibition of Trafficking in Persons (NAPTIP) despite not having the required qualification to hold the position.
According to the NAPTIP Act, the agency's DG shall be someone of the director cadre but that was not the case with Mr Suleiman-Ibrahim who does not have any record of attaining the director cadre in Nigeria public service.
Section 8 (1) of the NAPTIP Act 2015 reads as follows:
"There shall be for the agency a Director-General who shall be from the Directorate cadre in the public service of the Federation or its equivalent in any law enforcement service and shall be appointed by the President on the recommendation of the Minister."
Activists wade in
Speaking on the appointments, Kazeem Israel told POLITICS NIGERIA that the Buhari administration has no respect for rule of law.
"A president who has respect for rule of law will not make reckless appointments without due diligence. He also has folks like Malami who do not even understand law even as a Senior Advocate."
Another right activist, Sefiu Okanlawon saidl "appointment is based on scrutiny but this administration cares not about that. We all saw what happened in the case of Kemi Adeosun."
"Who screened her? What about Pantami."