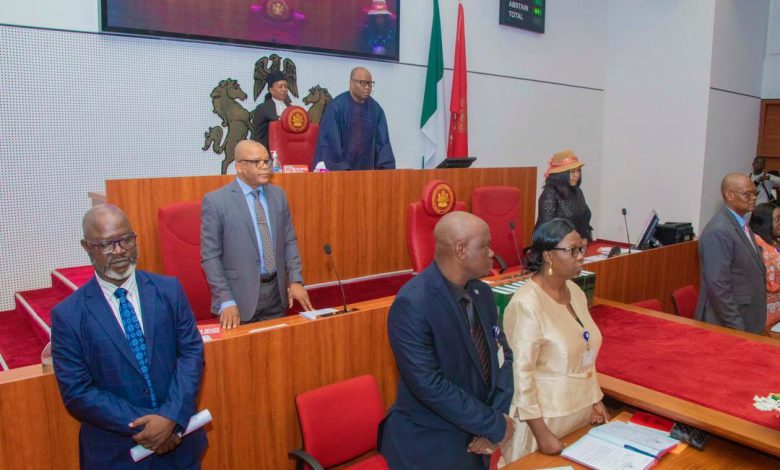 The Nigerian Senate has disclosed that it would today screen the former Chairman of the Board of Citi Bank Nigeria and acting Governor of the Central Bank of Nigeria (CBN), Dr. Olayemi Cardoso, alongside his deputies.
This was disclosed by a statement by the Media Office of the Senate Leader, Senator Michael Opeyemi Bamidele.
The statement further explained that the Senate would also screen four nominees for the positions of CBN Deputy Governors, who would join forces with Cardoso to steer affairs of the apex bank in the next five years.
Opeyemi, a former commissioner in Lagos, said the Senate would screen all the nominees following its resumption from its annual recess.
Part of the statement read, "The Senate of the Federal Republic of Nigeria will resume plenary on Tuesday, September 26. We will consider the screening of Dr. Cardoso at the Committee of the whole.
"Dr. Cardoso will be screened alongside four deputy governors namely Mrs. Emem Nnana Usoro, Mr. Muhammad Sani Abdullahi Dattijo, Mr. Philip Ikeazor, and Dr. Bala M. Bello.
"Besides, the Senate has scheduled to screen the ministerial nominees – Dr. Jamila Bio Ibrahim and Mr. Ayodele Olawande, respectively designated as Minister of Youth and Minister of State for Youth on October 3."
The Senate on resumption is also expected to screen for confirmation, Chairman, directors and members of the reconstituted Niger Delta Development Commission.
They are Mr. Chiedu Ebie, Chairman (Delta State); Dr Samuel Ogbuku – Managing Director / CEO (Bayelsa); Mr. Boma Iyaye – Executive Director, Finance and Admin (Rivers); Mr. Victor Antai, Executive Director, Projects (Akwa-Ibom) and Ifedayo Abegunde, Executive Director, Corporate Services (Ondo).
Sen. Dimaro Denyanbofa – State Representative ( Bayelsa); Mr. Abasi Ndikan Nkono, State Representative (Akwa Ibom); Rt. Hon. Monday Igbuya, State Representative (Delta); Chief Tony Okocha, State Representative (Rivers); Hon Patrick Aisowieren, State Representative (Edo); and Mr. Kyrian Uchegbu, State Representative (Imo).
The rest are Hon Patrick Aisowieren, State Representative (Edo); Mr. Kyrian Uchegbu, State Representative (Imo); Otito Atikase, State Representative (Ondo); Chief Dimgba Eruba, State Representative (Abia); Rt. Hon. Orok Out Duke, State Representative (Cross River); Hon. Nick Wende – Zonal Representative, North Central; Hon. Namdas Abdulrazak, Zonal Representative (North East); and Senator Ibrahim Abdullahi Gobir, Zonal Representative (North West).