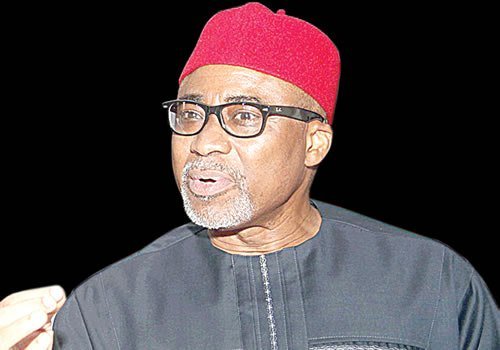 Senator Enyinnaya Abaribe, representing Abia south senatorial district, has reacted to a threat by a group, Abia Mass Movement threatening to petition the Economic and Financial Commission, EFCC, over failure to deliver on his constituency projects.
Mr Abaribe, a PDP senator, is the minority leader in the ninth assembly and has been representing Abia south since 2007.
POLITICS NIGERIA earlier reported how the group known as 'Abia Mass Movement' claimed that the six local governments in Abia South have not felt the impact of Abaribe, who has been in the senate for 14 years.
"The leadership of Abia Mass Movement had called on Senator Enyinnaya Harcourt Abaribe to retract his steps and attract Projects to his immediate constituency as his sojourn of 17 years (since 2003) in the Senate had only attracted few Projects by him before 2007, afterward there are no visible projects on his name in the six Local Government Areas of Abia South Senatorial District.
"Nonetheless, against the claims of the group, there are no records that Mr Abaribe was in the Senate in 2003 as he was the state's deputy governor at that time. The group made these comments during a courtesy visit to the President General Ohanaeze Ndigbo Youth Council Worldwide in his Umuahia residence, Abia State.
Also, the coordinator of the group, Mr Enyeribe Nwogwugwu, asked Ohanaeze Ndigbo Youths to prevail on the senator or they'll drag him to the EFCC.
However, when POLITICS NIGERIA reached out to the senator on Sunday evening, he gave the group a go-ahead to petition EFCC.
"Let them go ahead. We would want an opportunity to show them," Mr Abaribe replied to this paper's enquiry via SMS.
Meanwhile, follow-up telephone calls put across by POLITICS NIGERIA to seek clarifications were not responded to.