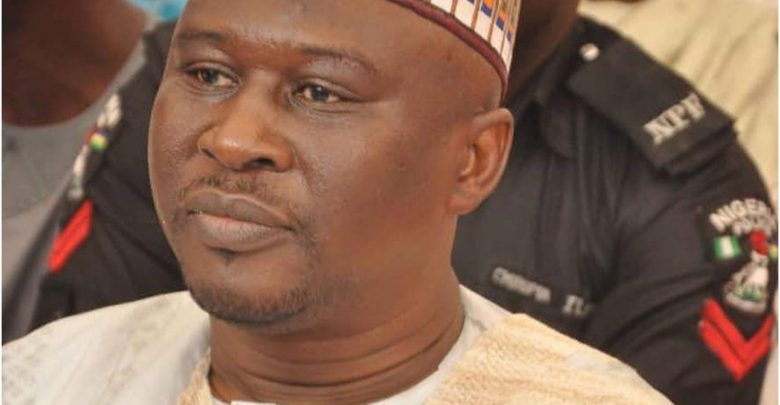 Elisha Abbo, a Senator representing Adamawa North Senatorial District, has said that his state Governor, Ahmadu Fintiri is a scam. He disclosed this in a statement used to debunk the claim by Mr Fintiri, that he donated transformers to some abandoned communities in the state.
Reacting to this, Mr Abbo in a statement signed by Michael Bolgent, his spokesperson, said Mr Fintiri is not responsible for the donation.
The lawmaker said he facilitated the donation, adding that the transformers were donated by the North East Development Commission (NEDC).
He said: "Contrary to their claim, it was Senator Ishaku Abbo who is the only Adamawa Senator in the Committee of Special Duties under which North-East Development Commission (NEDC) and National Emergency Management Agency (NEMA) are domiciled."
"On 1st April 2020, young people from Garkida drew the attention of SIA to their plight which made Distinguished Senator Ishaku Abbo put a call and had a lengthy discussion with the Chairman of NEDC who is also a son of Garkida."
"He also had a meeting with the MD of North-East Development Commission (NEDC), and they assured him that it would be taken into immediate consideration."
"After consistent lobby, and when the transformers were released, the MD, NEDC called Ishaku Abbo to inform him that the transformers have been purchased."
"In gratitude, Senator Ishaku Abbo on the 4th of May, 2020 took to his official social media handle to appreciate the management of NEDC for approving the purchase and release of the transformers and also appreciating the good citizens who called his attention and asked him for help."
"Fintiri should, therefore, concentrate on working for the People of Adamawa with the huge monies he is receiving from the Government and he should let Senators work in their own committees for the people."
"Recall, that NEDC gave the approval of over four hundred and thirty million Naira (N430, 000, 000) to reconnect electricity from Mararaba Mubi to Limankara in Madagali Local Government Area, covering forty-six (46) communities."
"When Fintiri got tipped of the information, He went and brought the Engineer working on Toungo Electricity to climb poles deceiving the poor masses that he is the one doing the project, stopping NEDC from coming to work."
"Today, when the NEDC was delivering the transformers to Garkida Community, Fintiri sent the Commissioner for rural Rehabilitation who joined the convoy on the road, falsely claiming to be the one that got the transformers for them. Fintiri should stop the scam."