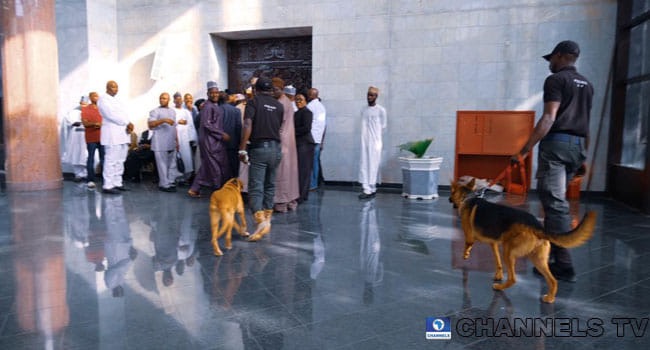 Officers of the Nigerian Police Force were forced to deploy dogs in order to control a huge crowd at the Supreme Court in Abuja on Tuesday.
Politics Nigeria learned that a large number of people swarmed the Apex court earlier today as hearings resumed on governorship appeals from six states of the Nation.
The Appeals up for hearing were filed by governorship candidates Imo, Kano, Benue, Bauchi, Plateau and Sokoto States. A seven-man panel led by the Chief Justice of Nigeria, CJN Muhammad Tanko had to suspend hearings temporarily due to the massive crowd and disorder.
He was forced to order security operatives to restore order in the courtroom.
The operatives carried out the CJN's directive and used dogs for crowd control in the process. Photographs Below;