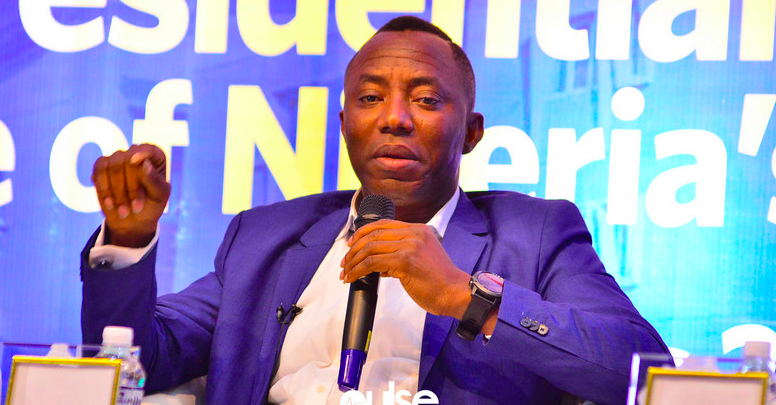 The former presidential candidate of the African Action Congress (AAC) and publisher of Sahara Reporters, Omoyele Sowore, has again called for another protest.
He said the protest is for hungry Nigerians to express their displeasure and hunger amidst the Coronavirus lockdown and it is scheduled to take place at protesters' respective homes from Saturday, April 25 to Saturday, May 2, 2020.
The protest is tagged: PPP: Pots Pans Protest Against Buhari". Making the announcement via Twitter on Thursday, he said:#RevolutionNow Pots are empty, plates are empty and the stomach is very empty! Bang your pot at home, don't let hunger kill you at home because of their greed, corruption and incompetence.
#RevolutionNow Pots are empty, plates are empty and the stomach is very empty! Bang your pot at home, don't let hunger kill you at home because of their greed, corruption and incompetence pic.twitter.com/E3yh9K3kpG

— Omoyele Sowore (@YeleSowore) April 23, 2020
Mr Sowore call for protest has however generated several reactions on Twitter. The reactions are as follows:
Painful!!!
My mum won't allow me to use her pot for this.
Pls if you have empty pots at home lend me in Solidarity!!!#RevolutionNow

— ikugbadi (@ikugbadi) April 23, 2020
Please if you know you are IN of this protest, retweets it so all your followers will join the protest. you guys shouldn't be worried on how to cover it, when it started happening in your different street many people will video the protest

— Bethany England boyfriend (@masterDonkelly) April 23, 2020
@YeleSowore why not share this idea with @MaziNnamdiKanu I believe you're in good terms with him and also listen to what he have to tell you.

This is what we want, we want revolution

— Elvis Chinedu (@ElvisChinedu12) April 23, 2020
Hmmmm I think this should be done using the means of social media. Every concerned Nigerians to do this at home with a short clip of 1-2min video ranting seriously then bombard the internet. Also tagging this those govt officials.
We shouldn't break the rules but to keep safe.

— Joefan (@KunleYoungMoney) April 23, 2020
He Shut down Lagos, Ogun and Abuja and started giving out 20k to 40k paliatives in Katsina, Zamfara and Kano leaving the south to suffer. He @MBuhari doesn't hide his hatred for the south. What pains me more our politicians are watching. Bloody hypocrites. God'll judge you all

— Idemudia Agboifoh (@kabasa101) April 23, 2020
Americans were given $1000 Equivalent to $380,000 Nigeria Currency, they still went ahead Protesting that they are tired of waiting at home.

Talkless of we that we're just given #100 BREAD😲😲

We can't even Pro talkless of Test

— EAGLE Logistics (@owoyimikafestus) April 23, 2020
https://twitter.com/Mazilli1/status/1253216416729350144?s=19