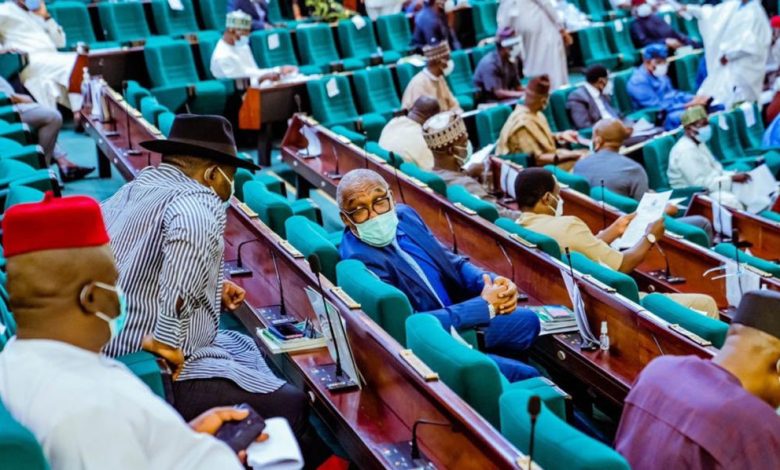 The ruling All Progressives Congress (APC) is at loggerheads in the House of Representatives as lawmakers plot to go against the zoning arrangement proposed by President-elect Bola Tinubu and adopted by the party's leadership.
Politics Nigeria gathered that in a major twist, the National Working Committee on Monday, May 8, adopted Tajudeen Abbas, a member of the House from Kaduna State, as a consensus candidate, while Ben Kalu, a lawmaker from Abia State, was picked as deputy speaker.
Later in the evening, in a shocking move, all the major aspirants— Deputy Speaker Idris Wase, Ado Doguwa, Yusuf Gagdi, Sada Soli, Ahmed Jaji and Miriam Onuoha appeared at the declaration of Muktar Betara and openly rejected Abbas as the consensus candidate.
"We will defeat those forces that think Nigeria is in their pocket," Deputy Speaker Wase said while addressing the crowd. He also disclosed that five of the aspirants already joined forces against the establishment.
Some other aspirants like Soli, Doguwa and Jaji also spoke, while expressing readiness to challenge and defeat the anointed candidate.
"APC does not have the number to tell lawmakers to go to hell. The entire majority is small, compared to the last assembly when APC had over 200," a lawmaker in the camp of one of the aspirants said during a meeting on Sunday.
Politics Nigeria recalls that this current situation bears similarities with the 8th Assembly, where Yakubu Dogara and Yusuf Lasun teamed up with the opposition in 2015, and won against the anointed candidate, Femi Gbajabiamila and Mohammed Monguno.
The majority of the lawmakers from the Northeast are backing Betara, while Abdulmummin Jibrin has been mobilizing opposition lawmakers, including members of the NNPP, Labour Party and PDP.
The minority group seems divided between Abbas' team and Betara. The caucus formed by some lawmakers loyal to Gbajabiamila have been campaigning for Abbas, while Betara controls the "greater majority" group.
There are indications that some of the aspirants may drop when negotiation commences.