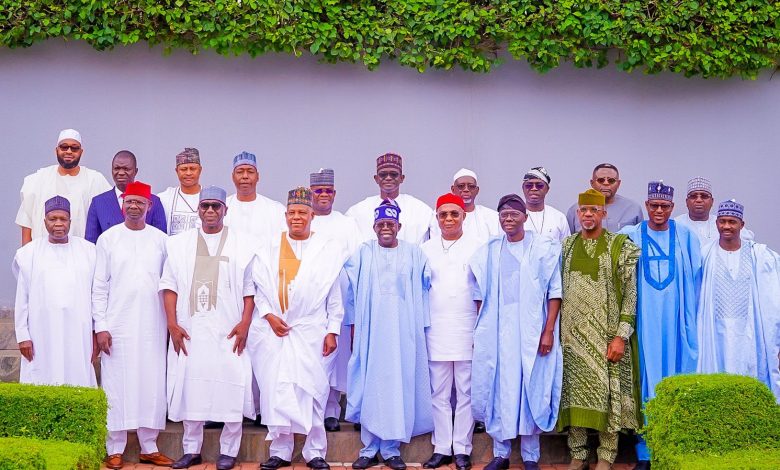 The Nigerian Governors' Forum has expressed its readiness and support to back President Bola Tinubu's decision to end fuel subsidy payments in the country.
The governors, who took turns to speak when Tinubu hosted them in Abuja at the State House, expressed happiness with the president's subsidy-removal decision, all-inclusive leadership and statesmanship.
They congratulated the president for tackling the fuel subsidy behemoth, promising to work with him to ease the short-term impact of the decision.
Tinubu had earlier called on the governors to collaborate with the federal government in tackling the menace of poverty in the country, saying the level of impoverishment was unacceptable.
He stated that the nation should be seen as one big family.
"We are a family occupying one house and sleeping in different rooms. If we see it that way and push forward, we will get our people out of poverty. A determined mind is a fertile ground for delivering on results.
"Present in this room is our diversity in culture and politics, but we are one nation. The unity and stability of the country rest upon us.
"We are in a democracy, and we have to nurture the democracy. It is a hard-earned system and not easy to manage. If anyone thinks it is easy, look at other nations over a hundred years in democracy".
The president said he was prepared to share ideas, strengthen institutions, and create bottom-up frameworks that will improve the livelihood of Nigerians.
Responding, the Chairman of the Forum and governor of Kwara state, Abdulrahman AbdulRasaq, thanked the president for the invitation to deliberate on the challenges of poverty and security.
He promised that the governors would support the federal government in meeting human development targets.