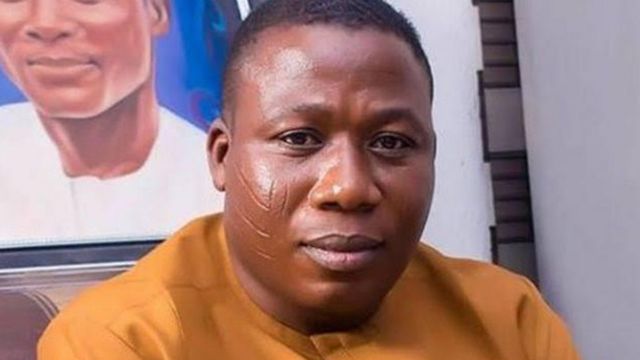 Sunday Adeniyi Adeyemo, popularly known as Sunday Igboho, has been returned to the custody of Brigade Criminelle in Cotonou, Benin Republic.
This is as the Cour D'Appel De Cotonou adjourned the case involving the Yoruba rights activist till Friday, July 23, 2021. Igboho and his wife, Ropo, were arrested at the Cardinal Bernardin International Airport, Cotonou while trying to flee to Germany.
He is currently being tried for obtaining a Beninise passport without being a citizen. After the hearing, the government lawyer didn't address journalists.
According to Punch, one of Igboho's lawyers, however, explained that "this is not the best time to say anything on the case". The court sitting was held amidst a tensed atmosphere as supporters of Sunday Igboho turned out in their numbers to witness the hearing.
Many of the supporters, who did not know when the Yoruba rights activist arrived in court, rushed into the courtroom to see him.
Meanwhile, POLITICS NIGERIA had earlier reported that the Beninoise Government blocked Nigeria from extraditing Sunday Igboho.
The Nigerian government, through its Ambassador in Benin Republic, Tukur Buratai, a former Chief of Army Staff, has been pushing for the extradition of Igboho to Nigeria. POLITICS NIGERIA learned that efforts by the Nigerian government to extradite him crashed after the Beninoise government tagged Igboho 'not for extradition'.
The activist will however be facing charges for passport-related offences. Nigeria's secret police, the Department of State Services (DSS) had on July 1 raided Igboho's residence in the Soka area of Ibadan, arrested at least 12 of his associates and killed two others during a raid.
Igboho escaped and the DSS subsequently declared him wanted for allegedly stockpiling arms to destabilise Nigeria under the pretext of the Yoruba nation agitation – allegations Igboho denied.