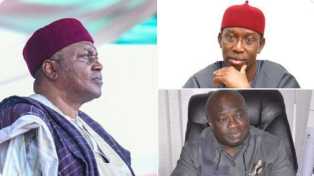 2PM has been fixed for the Supreme court judgement in the appeals tendered against the elections of Okezie Ikpeazu of Abia state, Darius Ishaku of Taraba state and Ifeanyi Okowa of Delta state.
In Abia state, the counsel to the All progressives Grand Alliance, Alex Orti submitted that the appellate court's findings of documents tendered at the tribunal which was dumped on the court should be set aside.
He also insists that the documents tendered were not true certified copies.
In his final analysis he prayed the court to allow the appeal and set aside the position of the appellant.
Counsel to INEC on it's part, Zakawanu Garbu asked the court to dismiss the appeal.
Cases also to be decided today by the court is the hearing of the appeal filed against the election of governor Darius Ishaku of Taraba state.
Counsel to APC, Isiakka Dikko challenged that irrespective of the fact that the party's candidate was disqualified, the law allows an alternate candidate who should be a runner up.
Defending former judgements by lower courts, counsel to Governor Ishaku, Kanu Agabi prayed the court to be consistent and dismiss the appeal.
An appeal filed against the election of Governor Ifeanyi Okowa of Delta State is also going to be heard.
Counsel to the appellate (Great Ogboru) Yunus Usman in adopting his processes told the court that the votes of 15 local government allocated to Governor Okowa is more than the number of registered voters in those local government.
He prayed the apex court to ask the governor to vacate the sit and ask the electoral umpire to declare Mr Ogboru as duly elected.
The counsel to the PDP while asking the court to dismiss the appeal, held that the petitioner did not prove its case at the tribunal.
INEC has asked the court to dismiss the appeal in its totality.
The Supreme court judgement on Delta, Abia and Taraba governorship election would be delivered from 2pm