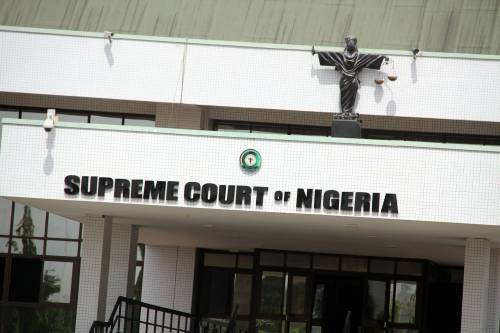 The Supreme Court was on Monday forced to halt proceedings in ruling on the governorship appeals from Bauchi, Benue, Imo, Kano, Plateau, and Sokoto states.
The suspension was on the orders of the  Chief Justice of Nigeria, Justice Tanko Muhammad, due to crowd and noise trouble.
The hearing drew many supporters of the appellants and defendants, and these large crowd proved too unruly and large for the security operatives to control.
The CNN-led seven-man panel of justices rose just a few minutes into the proceeding when it became obvious efforts to decongest the courtroom, including asking counsels not to come with more than five lawyers and removalnof politicians not party to the appeal, were in vain.
It took the intervention of security operative using dogs before sanity could be restored and proceedings resumed.
The apex court is due to give final judgement on the appeals after the appellants dissatisfaction with the decisions of INEC, the election tribunals, and courts of appeal.
The defendants are Emeka Ihedioha (Imo), Bala Mohammed (Bauchi), Aminu Tambuwal (Sokoto), Abdullahi Ganduje (Kano), Simon Lalong (Plateau), and Samuel Ortom (Benue).