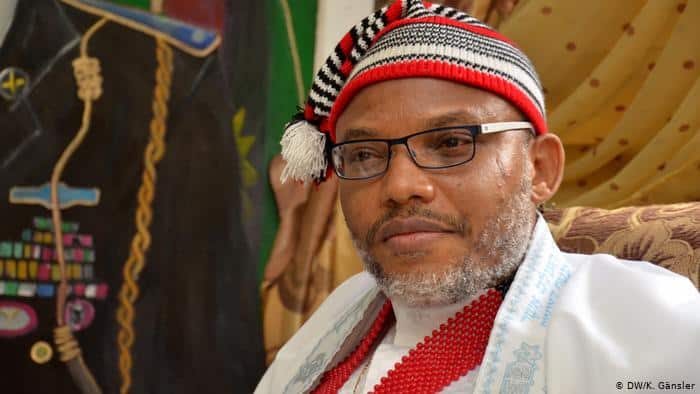 The leader of the proscribed Indigenous People of Biafra, (IPOB) Nnamdi Kanu, has said the alleged attack of President Muhammadu Buhari in Kebbi State on Thursday is a welcome development.
Mr Kanu disclosed this on Facebook while reacting to a viral video showing a young rushing at the President.
Mr Buhari went to Kebbi State to attend the Argungu International Agricultural Show and Cultural Festival.
In his reaction, Mr Kanu said the alleged attack was to arrest an impostor called Jubril Al-Sudani, a name he has often tagged the president.
"The attempted citizen's arrest of Jubril Al-Sudani is a welcome development. I am glad that some Hausa people are now waking up to the reality of Abba Kyari's horror show that is Jubril Al-Sudani."
"I commend that young Hausa man in this video that tried to arrest the 45-year-old criminal impostor from Sudan. Look at the video again and tell me the young-looking boy being paraded by the evil cabal as the late Buhari is not Jubril Al-Sudani."
"At least, conscientious northerners can now see what we saw since 2017. Jubril's days are numbered."
Meanwhile, POLITICS NIGERIA had earlier reported how presidency in a statement by Femi Adesina, Mr Buhari's spokesperson said the man caught on tape charging the president was expressing happiness while chanting "Sai Baba".
This newspaper also understands that a man was allegedly shot in the process of protecting the president on Thursday.