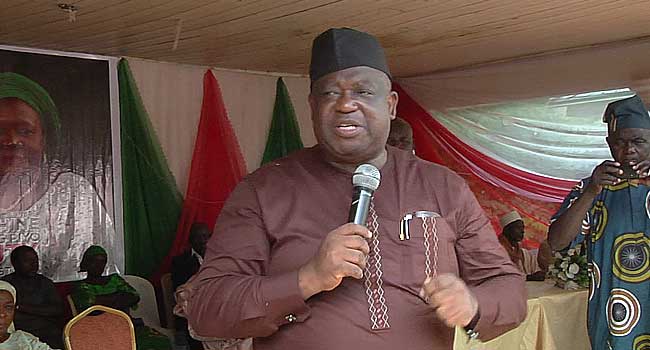 Plateau State Governor, Caleb Mutfwang, has raised concerns over the ongoing violence in his state, saying it is a deliberate and calculated attempt to eradicate the local population.

POLITICS NIGERIA reports that in a recent interview, Governor Mutfwang dismissed the notion that the crisis in Plateau State stems from a mere conflict between farmers and herders, asserting that such a viewpoint lacks credibility.

Expressing deep regret, the governor highlighted how unsuspecting people were ruthlessly attacked and killed in their sleep, emphasising that these assaults were part of a well-coordinated scheme to eradicate the populace.

Governor Mutfwang stated, "Regardless of the underlying motives, it is evident that rampant criminal activities are at play. What we are witnessing here is a blatant case of genocide, a meticulously planned operation to decimate our population. While I appreciate the efforts of our security forces thus far, I believe they can do even more by demonstrating greater empathy and mobilising more effectively."

He continued, "It is crucial to recognise that this isn't merely a farmers-versus-herders clash, as traditionally portrayed. This is a situation where innocent villagers are attacked during the night while they sleep. We must ask ourselves: Who are the individuals responsible for these heinous acts? Where are they originating from? Who is supporting them, and who are the masterminds behind this insurgency?"

Governor Mutfwang expressed confidence in the intelligence that has been gathered, which is being shared with the security agencies. He expressed optimism that with the recent changes in the country's security arrangements, significant progress could be made in overcoming this distressing phase.

It should be noted that in the past two weeks alone, over 200 lives have been lost on the Plateau.