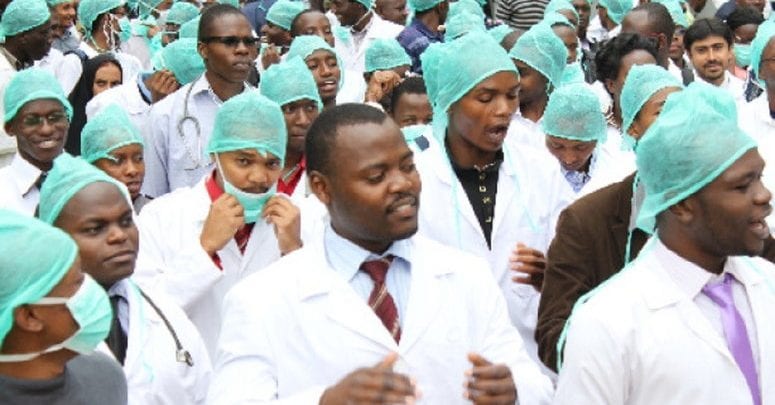 On Wednesday, Nigeria confirmed its 46 cases of Coronavirus pandemic as the global outbreak has already affected over 300,000 people in over 180 countries.
It has also caused the death of over 11,000 as of Monday, March 23.
In many parts of the world, Doctors are leaving their countries to help other troubled nations.
In all, the pandemic is fast spreading in Aso Rock as Abba Kyari, the Chief of Staff to President Muhammadu Buhari, and some other staff have already tested positive for the virus.
While a governor has been tested positive, some others have undergone the test and expecting result.
POLITICS NIGERIA, however, recalls that about two years ago, former minister of health, Isaac Adewole, said the country cannot employ all doctors.
He advised those unemployed to start farming or tailoring.
Last year, Minister of Labour, Chris Ngige, said Nigeria has more than enough doctors and those who want to go, should leave.
Fact check:
A fact check later proved the duo wrong. Admittedly, it is their areas, for they are medical doctors, although it is difficult to say when last they saw a stethoscope!
According to the latest United Nations estimates (as of April 24, 2019), the population of Nigeria is 199,961,971. This is roughly 2.6% of the total world population.
The Medical and Dental Council of Nigeria (MDCN) data of December 2017, which is the most recent shows that Nigeria had 42,845 registered doctors, dentists and alternative medicine practitioners working in the country. Of these numbers, 39,912 are medical doctors.
This means that one medical doctor is available to attend to 5,010 patients in Nigeria which is almost nine times lower than the World Health Organisation's (WHO) standard.
WHO's ratio of doctor to patient is one doctor to 600 patients.
Based on WHO's recommendation, Nigeria is expected to have 333,270 medical doctors.
Govt backtrack:
This newspaper reported that the government is planning to recall retired health workers owing to the short supply of medical professionals in Nigeria to fight COVID-19.
"We have advised that some states should issue a call for retired doctors and nurses to be able to be reabsorbed and come back to service for this particular period if the need arises.
"They can be recalled back to active duty. They are in the reserved pool", the current minister of health said.