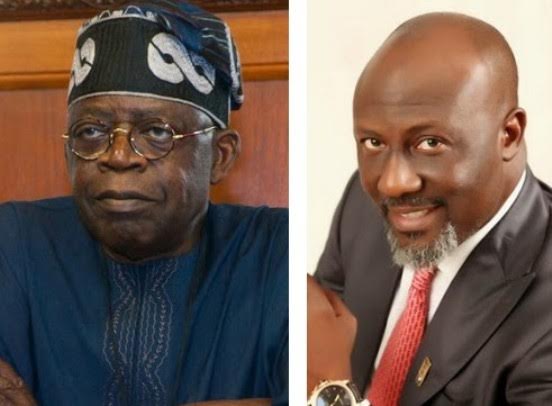 As politicians declare interest in respect of the 2023 presidential election, a former federal lawmaker, Dino Melaye, on Thursday mocked two presidential aspirants of the All Progressives Congress (APC).
In a post on his verified Facebook page, the Peoples Democratic Party (PDP) stalwart said Governor Yahaya Bello of Kogi State's dream of becoming president "is a continuation of baba Ajasco's Tv series". He also indirectly ridiculed the ambition of Bola Tinubu, the APC National Leader.
Tinubu had, on Monday, met with President Muhammadu Buhari at the Presidential Villa, Abuja, and declared his intention to run for the presidency in 2023. His declaration has triggered mixed reactions from Nigerians.
Bello, on the other side, said last May that he is considering running for President in 2023. He made the comment while speaking on Channels Television's Politics Today.
"Nigerians, the youth and women, and all Nigerians, including very objective elites are asking me to run for President in 2023. And I believe it is high time that we look into capacity, who can do the job, who is going to unify this country. And I think they are seeing something in me that they are asking me to come and unite and fix this country. My answer will be in the affirmative in a few time from now," Bello had said.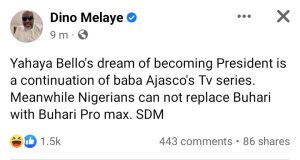 "Yahaya Bello's dream of becoming President is a continuation of baba Ajasco's Tv series. Meanwhile Nigerians can not replace Buhari with Buhari Pro max," Melaye said via Facebook.