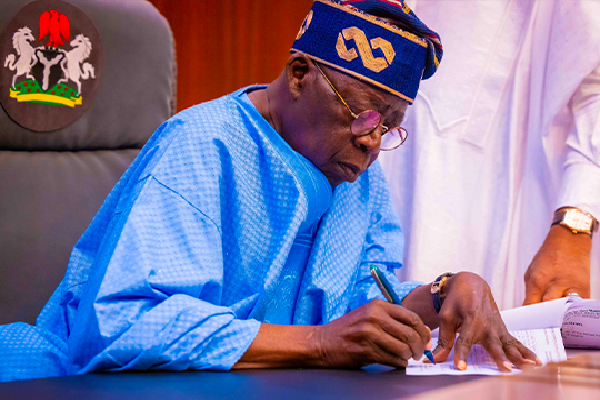 The President Bola Tinubu-led federal government is currently engaging the World Bank on a fresh $1.5 billion loan.
The loan is titled 'Nigeria Human Capital for Opportunities and Empowerment (HOPE)' based on information obtained from the website of the Washington-based institution.
The objective of the loan is "to strengthen systems for improved delivery of basic education and primary health services in participating states."
The loan is meant to be implemented in 2024 pending approval by the board of the World Bank Group.
It was gathered that there was another loan titled: 'Nigeria Macro-Fiscal Reforms for Economic Stability and Economic Transformation'.
However, the amount for this other loan was not disclosed as of the time of filing this report.
There were also pending discussions on five other loan projects, according to findings.
These include $300m for solutions for internally displaced persons and host communities' project, $500m for rural access and agricultural marketing project-scale up, $750m for the Nigeria distributed access through renewable energy scale-up project, $700m for sustainable power and irrigation for Nigeria project, and $500m for NG accelerating resource mobilisation for reforms PforR.
The discussions will determine if the loans will become active or dropped.
So far, Nigeria has secured a total of $1.95bn in loans from the World Bank in the first four months of President Bola Tinubu's administration.
The first was the $750m approved on June 9, 2023 to boost Nigeria's power sector.
The second was $500m to help the country's drive for women's empowerment and was approved on June 22, 2023.
The third was a $700m loan to enhance adolescent girls' learning and empowerment, and was approved on September 21, 2023.
The International Bank for Reconstruction and Development and the International Development Association, which make up the World Bank, have, over the years, advanced loans to Nigeria.
The IBRD lends to governments of middle-income and creditworthy low-income countries, while the IDA provides concessionary loans – called credits – and grants to governments of the poorest countries.
The World Bank is Nigeria's biggest multilateral creditor, with the country owing about $14.51bn as of June 30, 2023.
Further breakdown showed that Nigeria has $14.51bn IDA debt and $485.75m IBRD debt by the second quarter of the year.
The Debt Management Office (DMO) recently said Nigeria's total public debt hit N87.38tn at the end of the second quarter.
The figure represents an increase of 75.29 per cent or N37.53tn compared to N49.85tn recorded at the end of March 2023.
Further breakdown shows that Nigeria has a total domestic debt of N54.13tn and total external debt of N33.25tn.
While the domestic debt makes up 61.95 per cent of the total debt, the external makes up 38.05 per cent.