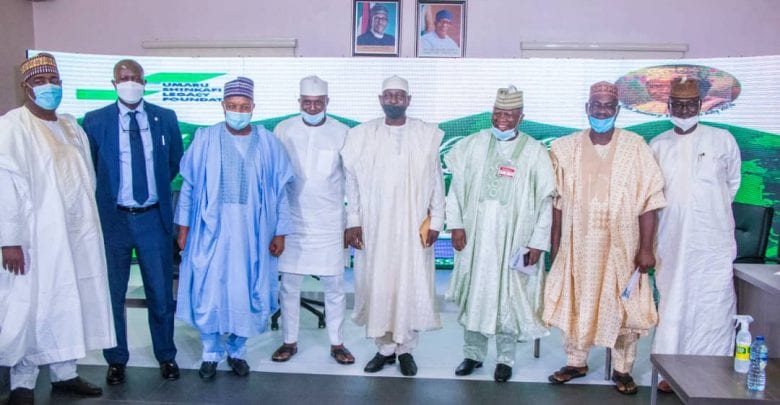 The 1st Umaru Shinkafi Intelligence and Security Summit [USISS] was held by webinar on Thursday, July 23, 2020. The theme of the summit was Insurgency, Banditry and Kidnapping: A Multifaceted Approach.
It was organized by the Umaru Shinkafi Legacy Foundation in memory of Alhaji Umaru Shinkafi [1937-2016], Marafan Sokoto, former Federal Commissioner for Internal Affairs, former Police Commissioner, Director General of the National Security Organization [NSO], frontline politician and elder statesman.
His Eminence Sultan Muhammad Sa'ad Abubakar was the Royal Father of the Day. He was represented by His Royal Highness the Etsu Nupe, Alhaji Yahaya Abubakar. Welcome address was delivered by H.E Mahmud Aliyu Shinkafi, former Governor of Zamfara State and Chief Coordinator of the Umaru Shinkafi Legacy Foundation.
Eight panelists spoke on the theme. They were H.E. Bello Mohammed Mutawalle, Governor of Zamfara State; H.E Aminu Waziri Tambuwal, Governor of Sokoto State; H.E Abubakar Atiku Bagudu, Governor of Kebbi State; H.E Abdulaziz Yari Abubakar, former Governor of Zamfara State; Director General of the Department of State Services [DSS] represented by Mr. Hakeem Abiola; Assistant Director, Special Operations [DSS]; retired AIG Mrs. Farida Waziri, former EFCC chairperson; Bishop Mathew Hassan Kukah, Catholic Bishop of Sokoto Diocese; Mr. A. S. Adeleke, (fsi, mni) Commandant of the NationalInstitute for Security Studies [NISS], Abuja.
Important contributions were also made by H.E Ms Gill Atkinson, Deputy High Commissioner, British High Commission; Hon. Rtd Dimeji Bankole, Former Speaker House of Representatives; Senator Rabi'u Musa Kwankwaso, former Governor of Kano State; Lt Gen Abdurrahman Dambazau, former Army Chief and former Interior Minister; Engr Buba Galadima, a well-known politician and activist, Alhaji Hassan Marafa, Magajin GarinSokoto; Dr Gani Adeniran, a security expert and Yakubu Maikyau, SAN. Malam Mahmud Jega moderated the discussion.
The vote of thanks was delivered by Her Excellency Dr. Zainab Shinkafi Bagudu, First Lady of Kebbi State.
After three and a half hours' deliberations the Summit resolved:
1. To thank President Muhammadu Buhari and the Federal Government for according high priority to the fight against insurgency, banditry, kidnapping and other forms of insecurity in Nigeria. It urged that the highest national priority should be accorded to insecurity because without security, nothing else is possible.
2. To urge the Federal Government and military authorities to strengthen the 8 Army Division based in Sokoto as well as other military and security commands in the North West region so they can properly meet the challenge posed by bandits and terrorists.
3. To urge the authorities to provide troops and security agencies with higher grade weapons than the increasingly sophisticated ones being used by criminals. The security agencies should be able to confront bandits and insurgents with superior fire power.
4. To call for improvement inthe training of security officials at the National Institute for Security Studies [NISS] to include middle and lower level security officials in order to enhance overall capacity and capability.
5. To call for improved synergy between different security agencies and other agencies. It called for hard work to eliminate friction, rivalry and lack of coordination that sometimes hamper security operations.
6. To call for improvement in the collection of intelligence as a key tool in the fight against criminals, bandits and terrorists. This should include better training and motivation for intelligence officials, utilization of traditional institutions and citizens in intelligence gathering, as well as deployment of modern technological tools and equipment in intelligence gathering.
7. To urge that intelligence information be promptly acted upon. At present, many communities and even state governments complain that actionable intelligence provided to the security agencies was not acted upon until havoc was done.
8. To urge that despite insincerity on the part of some bandits that entered into agreements with state governments only to renege, we should not foreclose the dialogue option because it succeeded in some places, for a time, in reducing violence and criminality.
9. To urge the authorities to step up the interdiction of weapons smuggling through our land borders as well as by criminal importers through the sea and airports. This effort requires great sophistication because syndicates that smuggle weapons are large, well-financed and ruthless.
10. To call for a concerted effort to break the increasing synergy between insurgents, bandits and other criminals as recently uncovered by our security agencies.
11. To call for enhanced cooperation with our neighbours and continued work for a regional solution to banditry and insurgency, otherwise the criminals just shift from one state to another.
12. To urge state and local governments as well as the private sector and citizens to continue to support security agencies with material and with information.
13. To also urge Federal, state and local governments as well as traditional authorities, development partners and NGOs to work assiduously to defeat anger that is prevalent in many communities against perceived injustice and marginalization. This should be done through continuous dialogue and political action to assuage and ameliorate it.
14. To urge authorities at all levels to remember that the fight against criminality, banditry, kidnapping and insurgency is not separable from overall efforts to accelerate economic growth and provide welfare amenities for citizens.
15. To hold future summits in the traditional manner if and when the pandemic eases
Signed:
Mallam Mahmud Jega, Chairman of the Daily Trust Editorial Board.
Moderator