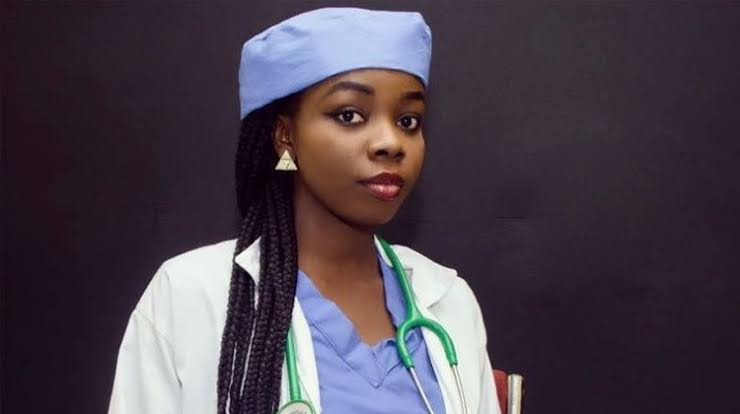 Father of Chinelo Nwando Megafu, a dental surgeon, who died from gunshot wounds sustained in Monday's bandits attack on Abuja-Kaduna train, is yet to recover from the agony.
POLITICS NIGERIA had reported that the train was on its way from Abuja to Kaduna when it was attacked by gunmen in Kateri-Rijana area of Kaduna State.
The gunmen were said to have blown up the rail track after which they launched an attack on the passengers.
Several passengers sustained injuries during the attack, and many others dead.
Shortly after the attack, Chinelo posted on her Twitter handle that she was shot in the train, while calling for prayers from people. But the young woman, sadly, didn't survive it.
According to Osita Chidoka, a chieftain of the Peoples Democratic Party (PDP), Chinelo's father is still in shock about how far Kaduna has slipped, in terms of security. It is understood that the family are also yet to retrieve the body of their deceased loved one, due to the challenge of traveling to Kaduna at this period.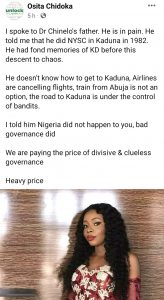 "I spoke to Dr Chinelo's father. He is in pain. He told me that he did NYSC in Kaduna in 1982. He had fond memories of KD before this descent to chaos," Chidoka wrote on his known Facebook page on Thursday.
"He doesn't know how to get to Kaduna, Airlines are cancelling flights, train from Abuja is not an option, the road to Kaduna is under the control of bandits.
"I told him Nigeria did not happen to you, bad governance did.
"We are paying the price of divisive and clueless governance. Heavy price."