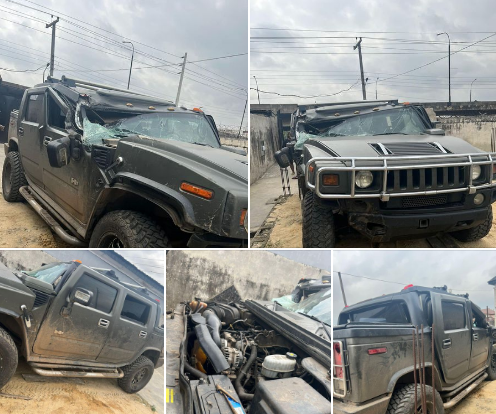 Isaac Fayose, younger brother of Ekiti state former governor, Ayo Fayose, on Wednesday morning, clarified that the gunmen attack he spoke about on Monday happened in Igangan town in Ibarapa axis of Oyo State.
POLITICS NIGERIA had reported that sharing pictures of a damaged vehicle on his known Facebook page, Fayose claimed that many people were kidnapped in Gbongan town in Osun State and that the kidnappers are heading to Lagos State.
But the Osun State Police Command stated that the news is false.
In a video posted on his social media pages this morning titled 'My Story', Fayose insisted that the attack occurred, but said it happened in Igangan – and not Gbongan as against his initial claim.
View this post on Instagram
"This happened in Igangan on Sunday. They are like armed robbers or kidnappers, trying to open the cars of two, three cars away," Fayose said.
"While they were trying to open the three cars away, all the cars coming from the Express, they were trying to turn back. The driver of this vehicle (in the video) tried to manoeuvre and turn back too, and he entered a trailer beside. That was what happened.
"The guy that sat in front, they had to rush him to hospital so they couldn't go to the police station close to the place.
"People were there. They can ask. It happened on Sunday."
Meanwhile, Adewale Osifeso, the Police Spokesperson in Oyo State, could not be reached for comments about the alleged attack.