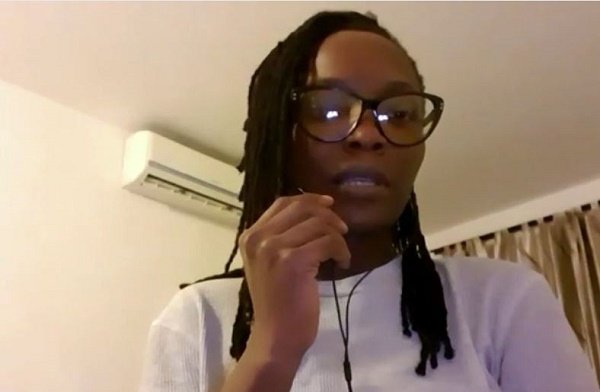 Obianuju Catherine Udeh, popularly known as DJ Switch, has appeared before the Subcommittee on International Human Rights of Canada's House of commons, to share her experience of the October 20, 2020 attack on unarmed protesters at Lekki Toll Gate.
Recall that on that Tuesday, soldiers shot at youths protesting against police brutality and the excesses of the Special Anti-Robbery Squad (SARS) of the Nigeria Police.
Not less than fifteen persons were shot dead that evening, DJ Switch, had earlier made known. It should be noted that the disc jockey, who was present at the protest ground, live-streamed the shootings via her Instagram account.
Although the Lagos State government and the Nigerian army have consistently twisted the narrative, members of the international community have mounted pressure on the Nigerian government to investigate the attack.
However, while the Judicial Panel of Inquiry in Lagos state is investigating the Lekki shootings, the federal government has begun a clampdown on prominent promoters of the EndSARS protest.
As a result, scores have been detained in police stations across the country while twenty bank accounts associated with the protesters have been frozen on the orders of the Central Bank of Nigeria (CBN) Governor, Godwin Emefiele.
POLITICS NIGERIA learnt that DJ Switch has travelled abroad to seek asylum.
Nevertheless, in pursuant to Standing Order 108(2) and the motion adopted by the Canadian parliament on Thursday, October 22, 2020, the rights committee proceeded to a briefing on the current situation in Nigeria on November 6.
The committee invited DJ Switch; the country director of Amnesty International, Osai Ojigho, Tim Okafor, Stella Kemdirim and Abdulrazak Namdas.
Some of them made statements and others answered questions posed by the committee members.
According to the minute of the meeting obtained by POLITICS NIGERIA, the meeting started at about 1:32 p.m.
In a video clip of the meeting obtained by this paper, DJ Switch narrated her side of the story before the parliament.
Now specifically to the day 20th of October 20 20, we had such Nigerians- spirited, focused, United in one goal against Injustice, against police brutality against Bad governance. What started out as a protest against police brutality, especially the unit called SARS, unfortunately just degenerated into something I still find it hard to reconcile with in my heart.
I remember being at the protest. I was on stage with some beautiful organizers of that particular day's event, and we were informed that there was a curfew for 3 p.m. I do remember that there was outrage on Twitter because it was short notice the curfew. I think we got the information at about noon that day. And so we said look people come from all over Lagos. There were thousands of people there and the best thing we can do if people can't make it home is to sit.
She noted that the protesters had the plans to sleep over when she got an invitation from the Lagos State Governor.
"So we also got information later that the governor wanted to see me and six other people and I remember saying to them that we have no leader if the governor wanted to speak to us, he should kindly come to the toll Gates and address Nigerians because we've been out for over 11 days and then the lady that came to give us the information. I do not remember her name at this time. He came back some 30 minutes later."
She added that the protesters later noticed an LCC official removing the camera at the toll gate and the billboard turned off afterwards.
"Another member that was standing behind me came up to me and said someone was taking out the cameras from the toll gate and then we found out that it was one of the staff or you know, he had the LCC uniform.
Those are the people that manage the toll gate so we took a picture just to keep and you know to sort of use as proof that we didn't destroy or take anything and then we realized that the big billboard that is over the toll gate had been turned off."
Narrating how the shooting started, she said:
"And so just before seven it was like seven maybe quarter to 7:00 not too sure on the exact time but to seven, we heard gunshots coming from behind at first, it was chaotic because we didn't know where the gunshots were coming from. We didn't know what the gunshots were about and then the lights went off. I think the rest of that is just the most tragic thing. I thought I was going to die. I thought we're all going to die and it was then I said, let me let me go live on Instagram so people will see what happened to us people see where we were killed.
"You know, I just believe that was what was going to happen. And I remember the military came in first. They stopped shooting at some point and I walked up to one of them and I asked him why he was shooting at us and he said he had Express orders from above and that I was coming too close to him. And if I came too close, he would still be considered an attack. Check on him and he would have to shoot. So I moved back and asked everyone to move back. It didn't take maybe another 10 minutes before shooting started again."
The disc jockey also told the parliament about how the soldiers prevented ambulances from rescuing the casualties.
"So I remember saying on my live Instagram that they're turning the ambulances away the second one came, they turned it back and then the third one came from our back. I really don't know how he got in but he caught in so we had to rush those an elderly man who was shot on the side. We had to rush him to the ambulance after this part."
When asked if justice has been served for victims of police brutality by one of the parliamentarians, DJ Switch said: "There is the facade of policemen being charged. There is a facade of Justice, you know being served but it's never served."
"And that is why it has degenerated to the point where a policeman can actually stay in front of a camera that he would do anything to you and nothing will happen," she told the committee.