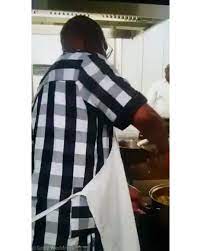 A video featuring the Federal Capital Territory (FCT) Minister, Nyesom Wike, showcasing his culinary skills while being inspected by the Chief of Staff to the President, Femi Gbajabiamila, has taken the internet by storm.
The video, which has gone viral on various social media platforms, showcases a unique and light-hearted interaction between two prominent figures in Nigerian politics.
The video, which emerged today, captures Wike's cooking, focusing on his culinary prowess.
Gbajabiamila can be seen observing the cooking process with keen interest.
The video showcases a jovial atmosphere, with both individuals sharing smiles and light-hearted banter during the cooking session.
Wike, dressed in a simple polo, was seen adding what looked like tomato paste to the meal being prepared.
A voice at the background was heard telling the FCT minister: "Excellency, you humbled me, sir o."
While the man recording said: "We will scatter the internet today."
Social media users have flooded platforms like X, Instagram, and Facebook with reactions and comments about the video.
Recall that in 2020, while as a governor, Wike was seen in a video cooking okra soup.
Watch the video below:
FCT Minister, Nyesom Wike enjoying the public holiday at home with his friends, Rt. Hon. Femi Gbajabiamila, Sen. Olaka Nwogu etc pic.twitter.com/XW3PupMXHF

— Chris (@Topboychriss) September 27, 2023