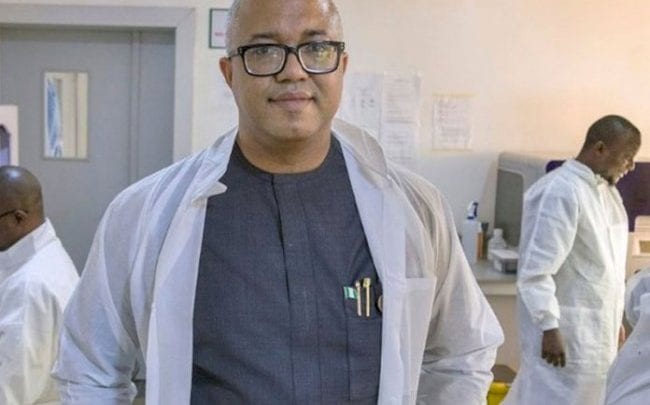 The Director-General of the Nigeria Centre for Disease Control (NCDC), Chikwe Ihekweazu, has said the agency is re-strategizing in its response to the COVID-19 pandemic.
Nigeria has so far recorded 4972 cases of the pandemic across 35 states and the Federal Capital Territory, Abuja. Mr Ihekweazu spoke at the daily national briefing of the Presidential Task Force (PTF) on COVID-19, which was aired on Channels TV and monitored by POLITICS NIGERIA.
While giving updates on Thursday, Mr Ihekweazu said the agency is looking inwards, using the case studies of countries with similar demographics.
"It's a global outbreak and we have to engage globally. That global engagement starts from science and understanding the factors driving this outbreak in Nigeria and globally."
"And as we watch TV every evening, we have seen where science has come In conflict with politics. I'm actually very proud of Nigeria that our leaders have actually listened to the science and use the science to drive action."
He then stated that as the agency looks globally, it is not enough to look at the countries who have the privilege to transmit to our sitting rooms every day.
"At the Nigeria Center for Disease Control, I try to push the team to look at countries like India, look at countries like Brazil and Mexico that Syria has similar demographics to us and face similar challenges. We've been intrigued over the last few days of a big prison break in Columbia. Up to 50 per cent of the prison inmates in Colombia have been tested positive for COVID-19."
"And what does that mean for us and our preparedness and how do we now have to start adapting our response and preparedness to these new circumstances in Mexico that when large numbers of healthcare workers infected now, of course, it is sad for healthcare work at the infected are on the front lines."
"… We are rethinking our response at the Nigeria Center for Disease Control from one of just going around and trying to subdue the impact of the outbreak," He said.
Mr Ihekweazu announced that the agency is planning to dig deeper into what is driving the outbreak in certain parts of the country and use that to inform the response. According to him, the agency, in partnership with the ministry of health, has brought together researchers from different Nigerian universities in a bid to know what their research priorities are.
Speaking on efforts to get vaccines and drugs, the NCDC boss said that the agency will be a point of reference for its responders who are participating in the World Health Organization solidarity trial.
"No country on its own will have sufficient cases and interventions to have this group of a study needed. So you bring together the data from different countries and pull them into one big study and that's why it's called the solidarity trial because we are all working together."
"We've just started a study called the first few hundred pieces and protocols adapted from the WHO protocol which we share with many other countries," he said.