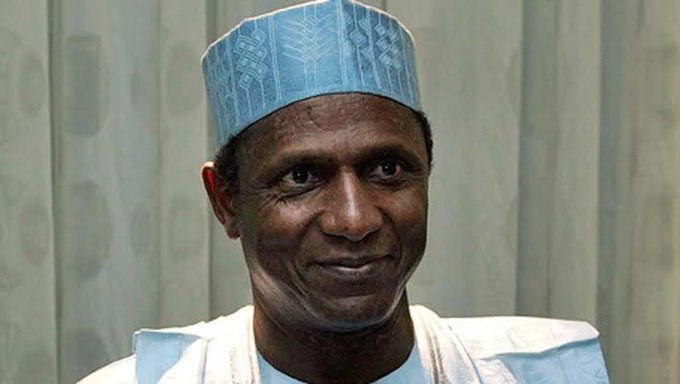 Nigerians have taken social media to remember late President Umaru Musa Yar'Adua, the 13th President of the Federal Republic of Nigeria.
POLITICS NIGERIA reports that Yar'Adua died exactly 10 years ago (May 5, 2010) inside the presidential villa after his arrival from Saudi Arabia where he went for medical treatment for Pericarditis.
He served as the governor of Katsina State from 29 May 1999 to 28 May 2007 and was declared the winner of the presidential election held on 21 April 2007.
However, Nigerians took to Twitter on Tuesday to appreciate Yar'Adua for his good leadership during his time as the President, adding that he will forever be missed.
Below are some of the reactions captured by this newspaper:
https://twitter.com/UmehWrites/status/1257577200586457088
Today makes it 10 years the former President, Leader, and Democrat, Umaru Musa Yar'adua passed on. His legacy as a real democrat will forever be in our mind.
You are known for your REAL honesty and integrity.
Rest on President Yaradua pic.twitter.com/mDN0IuYeOy

— Premier (@SodiqTade) May 5, 2020
A real definition of a true leader. Integrity it self, Peace keeper and harmony finder. Your service will never be forgotten. Many leaders came and go, but your 2yrs in service worth 50yrs to the masses😢😢

May jannatul firdaus be ur final home #Yaradua😭😢🙏 pic.twitter.com/EwBVQtdALq

— PHOTOSHOP NE📸📸📸 (@am_BinHamzat) May 5, 2020
https://twitter.com/hannatu_uthman/status/1257585313985200129
10 YEARS WITHOUT YARADUA

The man who never claimed or preached integrity instead he defined and practiced what integrity is.

Rest well Matawalle!
Your legacy shall live forever!
Allah kyauta makwanci🙏🏽 pic.twitter.com/BSFOnG7fYs

— Sameer (@Sameer_lukman) May 5, 2020
I was Pro Yaradua as much as I am Pro PMB today, he was Maligned, Insulted, wished death Upon, it's so funny he is bein celebrated today by same people who Maligned him, I was so frustrated how Nigerians treated him then, well, atleast we know what we had now. #RIPYaradua pic.twitter.com/sBxkgrrOpx

— Mu'awiyyah Muye (@MP_Muye) May 5, 2020
I urge Nigerians 2 join in remembering this gentle soul, a president who had vision and meant well for our dear country. Don't just compare him to Goodluck Ebele Jonathan and others and forget to pray for him.
May you rest in Jannatul Firdaus.
RIP Umaru Musa Yaradua.

76 in Lagos pic.twitter.com/1Ikpzqypfm

— Ustaz Rayyan 💖 (@ComRayyanBaraya) May 4, 2020
May your gentle soul continue to rest in peace Mallam Umaru musa yaradua Ameen pic.twitter.com/sU4oBhbpyp

— محمود طكن غاري (@Donhot2) May 4, 2020
5th, May 2010, exactly 10 years. Rest In Peace. Malam Umaru Musa Yar'adua. His death is a great lost to this Nation may Allah forgive all of his shortcomings and Grant him jannah.🙏🙏🙏🙏🙏🙏🙏🙏🙏 pic.twitter.com/ExJySvhcyS

— Aminu Abdullahi (@ameentk05) May 5, 2020
it's a decade today, Continue to Rest in Peace #yaradua ,May Allah grant you Al Jannah Firdaus pic.twitter.com/WZQp6N8JOO

— Blessing Okoye (@BlessinOkoye) May 5, 2020
5th May, 2020 10yrs Memory of late Umaru Musa Yar'adua, A good leader and true servant. May his soul continue to rest in Peace pic.twitter.com/voh5hF5eR8

— Hafsah🥀 (@Amally_A) May 5, 2020
https://twitter.com/umareyy__/status/1257519950794817536
Umaru musa yaradua died exactly 10 years ago😭💔,that is on 5th may 2010,you will remain forever in the heart of Nigerians😭💔.May your soul rest in peace Ameen🙏 pic.twitter.com/PdotJW4ju5

— Baffah (@Baffah16) May 4, 2020
Today 10 years ago Former Nigerian President Umaru Musa Yar'Adua died

During his time in office he
👇🏾
*Increased armed forces allowance

*increased NYSC allowance

*Reduced fuel price

*increased police salary

*Gave amnesty to the militant

E.t.c

Rest in peace sir ❤ pic.twitter.com/thSimWiW7G

— Nigeria Stories (@NigeriaStories) May 5, 2020
We missed you sir
How i wish you were still our president.

Petrol. N65
Diesel. N112
Kerosine N50
Rice Bag N3,500
Cement– Bag N750
Fertilizer N2,500
Bag of sugar N7,000
Bag of flour N6,050
May his gentle soul rest in peace ameeen🙏🙏😭😭😭💔💔💔💔10 years in the grave 😭😭Rt pls pic.twitter.com/AYSdAke4nk

— Malama sadiya❤️🌙 (@serhdeeyerh) May 4, 2020