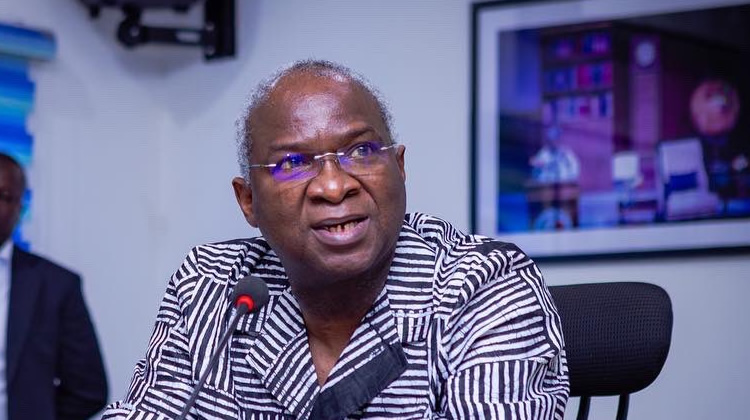 The Federal government of Nigeria has reacted to critics of the unending award of contracts and external borrowing, a few days before the expiration of President Muhammadu Buhari's administration.
Minister of Works and Housing, Babatunde Fashola, declared that the Muhammadu Buhari administration will award contracts by midnight of May 28.
Politics Nigeria gathered that the minister made the declaration in Akure, the Ondo state capital, while flagging off the N 90 billion dualisation of the 49km dilapidated Akure/Ado-Ekiti highway.
According to him, People are asking why we are still awarding contracts when we have just a few days to go. Should we stop this road now and wait for the next government?
" It is a juvenile conversation. They forgot, among other things, that the term of this administration ends at midnight on May 28.
"This road really represents the paradox of governance, about roads, and about public debts. This is the real story.
" The work looks easy from the outside, but one decision leads to other consequences. But we have now given you contractors who have worked with you.
"All kinds of stories have been told about me, but none of them bother me. They just dedicate me to my job and tell me to do it as best I can.
"All lies have been published that Fashola does not like Ekiti and Ondo States. That is absolute nonsense.
"There were suggestions that we should asphalt and rehabilitate the road, and I said no, that we will dualize the road and we are going to reconstruct.
"Before we could do that, we had to first do the design, which took some time. But many were ignorant about this. It is not as easy as it looks.
Fashola who pointed out that infrastructural development can only be actualised through borrowing or taxation, said that the project, which will cost N90 billion, will be taken care of by NNPCL through the tax credit policy of the federal government.
According to him the project awarded to Samchase Nigeria Ltd. and Kopeck Construction Company is slated for completion within the next 24 months.
Speaking on the procurement act, the Minister asked the 10th National Assembly to amend it, noting that the law was slowing down the country's development.
"There is a law passed by the National Assembly called the Procurement Act; if you don't follow it, they will call you a thief.
"That procurement law and the processes that it prescribes are not consistent with the hurry that Nigeria is in for development. And I hope the 10th National Assembly will look at that procurement law and make adjustments. Its intention is good, but the processes slow down the country.
"They forget that you, the people, through your representatives, have passed a budget for us to implement. It is a law. The people then ask, "Why is the government borrowing?"
"The easiest thing to do in government is to say that our revenue is N10 and our work is N10, but that means that nobody should ask for a road.
"If you want development and you have chosen infrastructure—a road, school, bridge, pipeline, refinery—who is going to pay for it?" It is going to come at a cost.