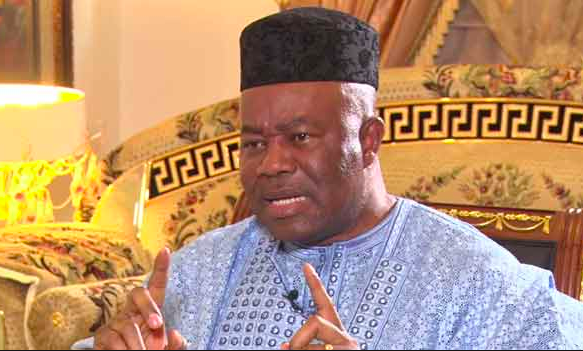 Former Governor of Akwa-Ibom state and Outgoing Senator, Godswill Akpabio has said that God will expose all the people that plotted his loss in the National Assembly Elections a few months ago.
Akpabio, while speaking at Ukana, Essien Udim area of the state, also took a shot at the resident electoral commissioner in the state, Mike Igini, describing him as the "most compromised electoral officer in the state". He also accused Igini of denying him his 'Mandate'.
"Please nobody should have any headache, nobody should cry because there is no need. You know your senator cannot lose election because we were all there. But many of them thought they can go and write whatever they like and even cancel what you won.
"I have never in my life experienced a resident electoral commissioner like Mike Igini and my message to him is that his hypocrisy will be exposed. There is no way you can come into Akwa Ibom and commit that kind of electoral fraud you committed then you go back to Channels Television and sit down and talk as if you are a pope."
"Very soon the world will know… All the materials we are recovering every day will expose you".
Akpabio represented Akwa Ibom north-west district in the 8th Senate.