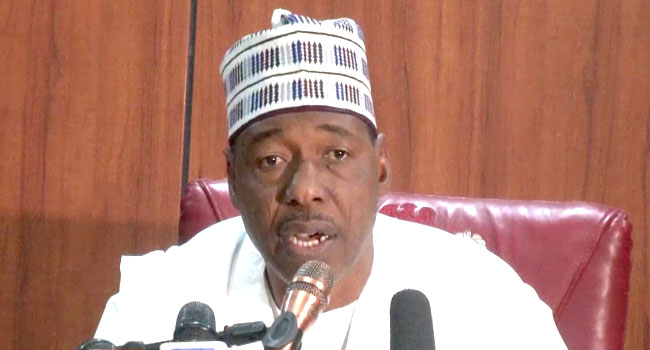 Governor Babagana Umara Zulum of Borno State has revealed the reason Boko Haram insurgents have not been defeated and the war against insurgency has not been won.
Speaking on Monday when he received the President and other members of Alumni Association of National Institute For Policy and Strategic Studies (AANI) at the Government House, Maiduguri, the governor said that the proliferation of firearms by insurgents was responsible for the reason the war against insurgency has not been won.
Governor Zulum noted that the porous borders between Borno and Niger, Chad, and Cameron were responsible for the smuggling of guns and other weapons into the country.
He said that for the federal government to win the war against insurgents and avert the 12-year crisis in the North East, security agencies must man the porous borders diligently.
Zulum called for collaboration between all stakeholders in order to rescue Borno, the entire North East and the country from the dreaded insurgents.
The governor, however, said that his dministration will continue to support the military and paramilitary in the fight against Boko Haram insurgents.
Also speaking, the President of the association, IGP Mohammed Abubakar (Rtd) said the group is deeply concerned with the security challenges facing Borno State Government, particularly the recent upsurge in attacks by insurgents.
He, however, commended the governor for his foresight and hardwork and asked the federal government to come to the aid of the state government.