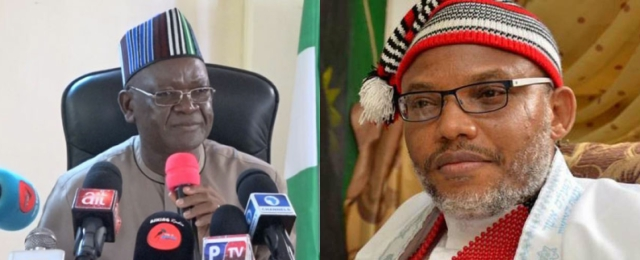 Governor Samuel Ortom of Benue State, on Wednesday, asked President Muhammadu Buhari to order the release of Nnamdi Kanu, leader of the outlawed Indigenous People of Biafra (IPOB), because the detained separatist is "only a freedom fighter".
Ortom said this in an interview on Arise TV, monitored by POLITICS NIGERIA.
"How do you cage Nnamdi Kanu, a freedom fighter who say that he wants liberation for his people?" Ortom asked rhetorically.
"Why are you not going to arrest Fulani men? Look at the train attack in Abuja to Kaduna. Up till today, our people are still being kept by these bandits. Where is the security? Where is the president? Tell me what happening.
"Sunday Igboho, they went after him in the southwest, and stopped him. Why can't they stop these Fulani men who are terrorising this country? And my local government, they kill people. And then, you want me to keep quiet? They want to intimidate us [sic]? I can never be intimidated."