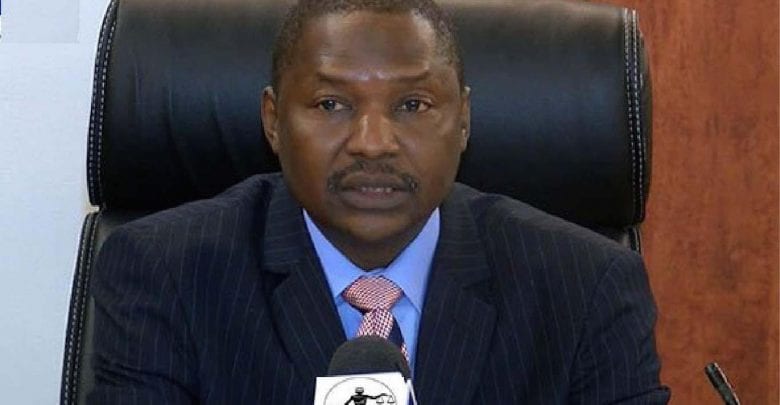 Nigeria's number one law officer, Abubakar Malami (SAN), has responded to the criticisms against him over the ongoing investigation of suspended Chairman of the Economic and Financial Crimes Commission (EFCC), Ibrahim Magu.
In a statement on Sunday released by his spokesperson, Umar Gwandu, Malami said that the recent media attacks on his personality show that he is doing a great job. He added that it is a price to be paid for serving the country.
The Minister of Justice and Attorney-General of the Federation (AGF), however, informed his critics that he will not relent in fighting corruption and impunity in the country.
"I think that is the burden of leadership. Whoever is appointed as a leader, it is only natural that in one way or the other one must be attacked. The good one has been doing can hardly be seen when one remains in office.
"It is a common tradition for people to attack the President, Governors and those in the helm of affairs or in a leadership position. I cannot, certainly, be an exception.
"The good thing is our Constitution is clear. Our law is clear about impunity and how can it be best handled and addressed. It is not about attack on personalities, but compliance with the law. We are there to fight impunity.
"The bottom line is whether in the fight against impunity we are working in line and in tune with the law," the statement read.
In a related development, some anti-corruption groups in Nigeria have submitted corruption allegations against Malami to President Muhammadu Buhari.
Their letter was titled "Compilation of Corruption Allegations and Abuse of Office".
It was signed by the Chairman, Civil Society Network Against Corruption, Olanrewaju Suraju; Chairman, Centre for Anti-Corruption and Open Leadership, Debo Adeniran; and Co-founder, Say No Campaign, Ezenwa Nwagwu.
The coalition called for the immediate probe of Malami to ensure a full inquiry devoid of interference. It insisted that there are very strong allegations Malami with clear evidence and urged Buhari to act immediately.