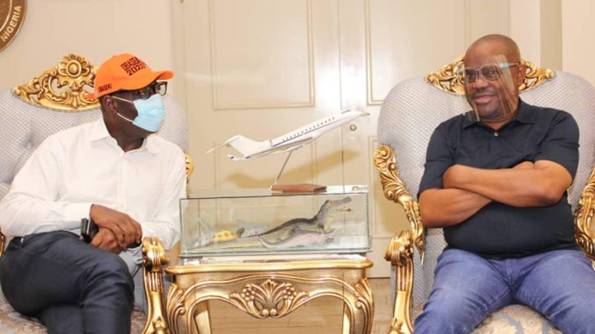 Governor Nyesom Wike of Rivers State has said his counterpart in Edo state, Godwin Obaseki can return to the All Progressives Congress, APC.
In an interview on a television station on Friday, Wike said Obaseki is free to return to the APC if believes that the PDP is no longer a party for him to actualize his vision and his mission.
The Rivers state governor noted that Obaseki will not leave the PDP because he is a man of morals and integrity. He added that the Edo governor has consistently told PDP leaders that he will not be leaving the party.
Wike, however, said the Edo State governor must never forget that he was given an umbrella when he was left in the rain.
Wike said, "I don't want to discuss something that is not going to be possible. However, assuming it happens, so what? That is politics.
"If the governor believes that the PDP is no longer a party for him to actualise his vision and his mission, there is nothing wrong but I don't believe that it is going to happen because the governor has consistently told us that there is no way he will leave the PDP. If he leaves the PDP, people in Edo State will not be happy.
"And he is somebody I have that trust in that he will not leave the party. This is a party that clothed him. This is a party that when it was raining, gave him an umbrella."
Speaking further, Wike said he did not play such a big role in Obaseki's re-election but only acted as the chairman of the campaign council.
He, however, appreciated Governor Seyi Makinde of Oyo State and Delta State Governor, Ifeanyi Okowa, for  their roles during the election.
Wike stated that he did not fund Obaseki's campaign because the governor already had enough money to execute his campaign.