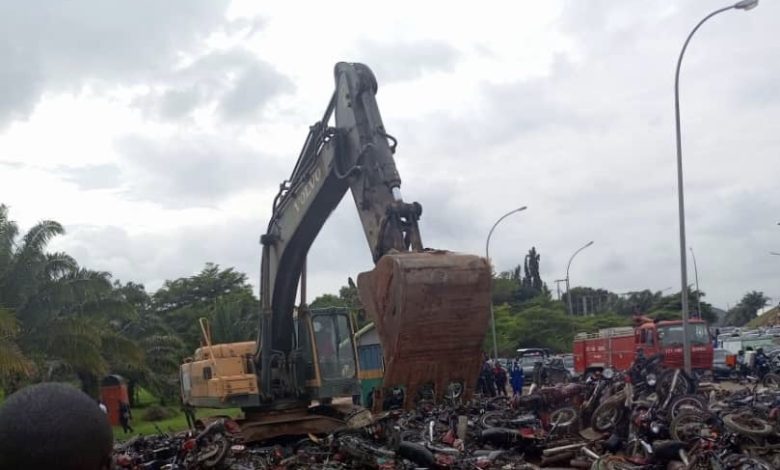 A task force recently inaugurated by FCT minister, Nyesom Wike, has seized and destroyed no fewer than 470 motorcycles in Abuja.
It was gathered that attempts by the motorcyclists to keep their motorcycles from being impounded led to a violent clash between them and security operatives.
The task force was said to have stormed the community in a raid on Thursday as security operatives engaged them in a speed chase as okada operators fled into different directions to avoid being arrested.
No fewer than 470 motorcycles were said to have been impounded in an exercise that started from the popular car wash bus stop in Lugbe, combing through Gosa, Bill Clinton drive, Trademore Estate, Lugbe junction as well as the Kubwa and its environs.
It was learnt that several teargas canisters were shot by a combined team of personnel from the DRTS, Police, Civil Defence, DSS, and the Military to repel the irate motorcyclists who pelted the task force in the process with stones.
Many of them sustained varying degrees of injuries while others were arrested, according to SaharaReporters.
The Secretary Transportation Secretariat, Nya Ubokutom while addressing newsmen before the seized motorcycles were crushed at Area 1 round about, warned commercial motorcyclists to strictly limit their operations to the areas designated for them.
He further explained that the Administration's desire to develop a smart city devoid of all sorts of pollution cannot be achieved if illegalities are allowed to pervade the Federal Capital City.
Also, the Director, FCT Directorate of Road Traffic Services, Dr Abdulateef Bello, said apart from the City Centre, commercial motorcyclists are not allowed to operate on any of the territory's highways stating that the administration is determined to rid the entire FCT roads of okada operators.
He, however, warned that one of the strategies to be deployed towards eliminating commercial motorcyclists from FCT roads is arresting passengers who patronise the business.
Similarly, food vendors and passers-by took to their heels at Galadimawa round about on sightings the intimidating joint task force team as they arrived to carry out their operation.