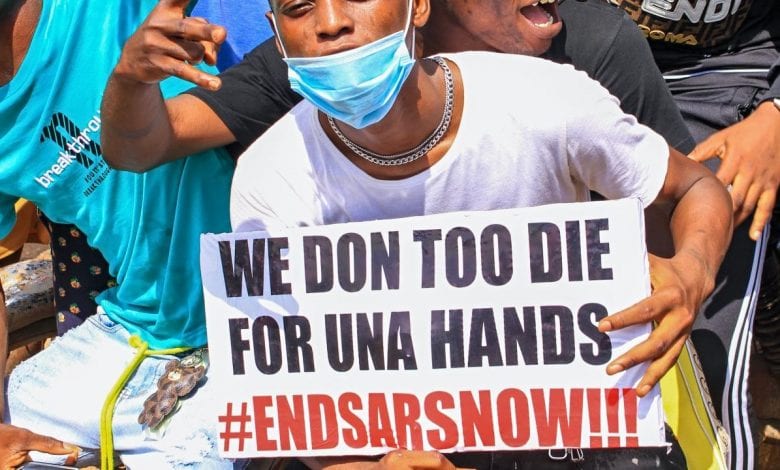 The aftermath of the #EndSARS protest is still fast trending. Many have shared their stories of pain and agony. Many families have been bitterly affected and the scars of horror will forever remain with a lot of Nigerian youths that actively participated in the protests against police brutality.
While Lekki Toll Gate killings appeared to be more popular, there were a lot of brutal attacks on protesters by men in military uniform across the country. From Lagos to Ibadan, From Osun to Ekiti, From Rivers to Edo and From Ilorin to Abuja, lives were lost.
The immediate effect of the killings on Tuesday, October 20th was a total breakdown of law and order in Lagos which included burning of BRT buses at the Oyingbo bus terminal, burning of the Lekki-Ikoyi link bridge tollgate, attacks on banks, demolishing of police stations, attacks on media organisations alleged to be biased against the Protests.
The looting
Last week Thursday, there were reports of people breaking into warehouses where COVID-19 palliatives donated by CACOVID, a private organisation, were stored. The first place where this occurred was in Lagos where hungry Nigerians carted away bags of rice and cartons of noodles. Reacting to this, the Lagos State Government said the food items looted belonged to all southwestern states.
To the surprise of many, some persons located another warehouse in Ede, Osun State and interestingly they found another set of food items and indeed the truth revealed itself in its inglorious nakedness. The case was not different in Kwara State and some other places across the nation. To avoid the unnecessary shame, states like Ogun and Sokoto quickly informed residents that they also have some food items in their custody and that they were willing to distribute them.
The looting and vandalism still did not stop in many parts of the country and indeed exposed the truth that underwrites the Nigerian reality. For some media outfits, they did not see all that happened as frustration of Nigerians battling for survival, rather they tagged youths as "thieves", "arsonists", "looters", "robbers", "hoodlums", "thugs", and "criminals".
If the above words are used to described persons who only took responsibility of what belongs to them? Then what do we call the those who hoarded the food items. What do we call the politicians who are the real "Ambassador of Poverty"? Rather than provide for the needy, they shortchanged citizens.
Should acclaimed looters be prosecuted?
As this question heaps around the neck of many, we should understand that all that happened was a a result of poverty in the land. A member of Democratic Socialists Movement, Lekan Adio told POLITICS NIGERIA that failure of the government to improve the welfare of citizens made people exploit warehouse looting.
"It is irrational for any Government to justify failure of government to share COVID-19 palliatives as at when due. People have been more poor and all they did was to ensure that they put food on the table for their children".
"Leaders must understand that they owe their people a return of courtesy and encourage mutual civility between the leader and the follower. Why would Teslim Folarin, an Oyo Senator keep up to 300 motorcycles in his house?"
Some analysts felt that the worsening poverty in Nigeria after 21 years of uninterrupted democracy has no excuse and people had no choice than to take advantage of what they could during war.
Speaking on way forward, Wole Engels of Movement for Socialists Alternative said "in a society like Nigeria, the ruling class is not exactly a productive, capitalist class, but a financial and extractive capitalist class. It controls trillions of naira in its banking system, but they are for extraction of raw materials. The capitalists see no reason to invest in heavy industries or infrastructures that have nothing to do with the business of extraction."
"This system creates a capitalist class, with properties, that must be protected from the 'envious' eyes of the people. Hence the police. Nothing is enough in Nigeria by UN or AU recommendation, not the doctors or teachers. But Nigeria comfortably meets the UN's recommendation of 1 police to 400 citizens. They are not protecting the people; for that we have no doubt. But in keeping the poor away from the rich, they are extremely effective and diligent."
"The police also serves as the first line of defense of the state against the inevitable challenge of citizens to their impoverished conditions. Twice before October 6 #EndSARS Protest, I saw the police descended on people for daring to protest electricity tarriff hike when other Nigerians were not on the street. You'd think they stole. No, but they have committed a 'crime' before the Nigeria state that prefer an unquestioned and unchallenged reign of social oppression to criticism of any form. "
Analysts explained that prosecuting those that looted warehouses should not be an option for the government, instead Nigerian authorities build a country where life is good, and where leadership is accountable and meaningful.
Edmund Obilo, a popular radio man in Ibadan, Oyo State said "suppressing the raging passion of the Nigerian for true change is just for a time. As history shows, leaderships against the common good, are taken unawares by waves of people's resistances that cannot be stopped by arrogance."