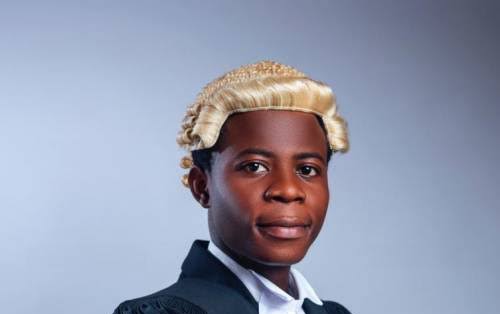 Human rights lawyer, Festus Ogun, on Thursday said Nigerian leaders do not have the moral right to tackle Yahoo-Yahoo' business, formally known as cyber fraud in Nigeria's cybercrime law.
POLITICS NIGERIA reports that according to Ogun via his known Twitter handle, some youths are negatively influenced by leaders in the country.
He went on to say that fraud among Nigerian leaders "is the greatest form of corruption and injustice" which must be addressed first.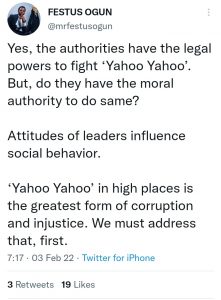 "Yes, the authorities have the legal powers to fight 'Yahoo Yahoo'. But, do they have the moral authority to do same? Attitudes of leaders influence social behaviour.
"'Yahoo Yahoo' in high places is the greatest form of corruption and injustice. We must address that first," the lawyer said.
'Yahoo Yahoo', an illicit business, mostly perpetrated by young men and sometimes women, is an offshoot of the so-called '419' business of the 1980s and 1990s.
The 419 code is derived from a section of the country's Criminal Act Section 419 (Advance Free Fraud) which frowns at obtaining money from people through pretence or impersonation, cheating, falsification, counterfeiting, forgery and fraudulent representation of facts.
Internet fraud has been existing for decades.