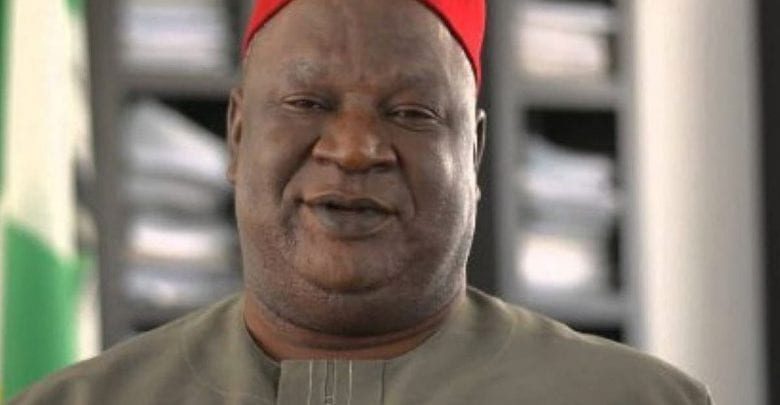 Former Secretary-General of the Federation(SGF), Anyim Pius Anyim has launched a strong attack on Billionaire businessman, Arthur Eze for calling him a failure in government.
In a statement on Friday, Anyim hammered Eze over his comments adding that the Popular Anambra mogul was attacking him because he refused to give him contracts while in government. The statement read;
"I am constrained to address this letter to you, to express my utter displeasure over your relentless and mindless attacks on me for so long. I have maintained a dignified silence in the face of your multiple provocations but I can no longer do so as you have taken my silence for granted. It is my wish to recap my story with you and advise that, at your age, you should try to show some sense of dignity and decorum."
"In an answer to a question in your interview, in THISDAY Newspaper of 16/7/2020, you, in your exuberance, veered off the question put to you, and gleefully recounted how public officers from other parts of the country had enriched you with contracts and oil blocks, while no Igbo man had done as much for you. Then you took on me, as has become your favorite pass time, on how, in your own judgement, I favoured my hometown without doing anything for the entire South East."
In your own words:
"during the time of Goodluck Jonathan, we had the Secretary to Government of the Federation (SGF), Pius Anyim. What did he do for Igbo People? He brought Julius Berger and they tarred his own road; the one leading to his house. All our roads were bad. It is President Buhari that is tarring our roads now. Look at Enugu – Onitsha Road, Enugu – Port Harcourt Road, Second Niger Bridge. He went and modernized Zik's grave. Did Jonathan do that? Jonathan's people wrote petition against him. His people said that he took their land and built a house. They copied me the petition and I showed it to him. I said look at it, they are your people. What do you want the north to do?"
"It is clear from your thought process, as can be seen from the interview, that your anger was that I did not patronize you with contracts while I occupied the office of SGF. It can also be seen that in your convoluted judgement, any public officer who did not patronize you with contracts is not worthy of office. However, as is usual with me, I would not have bothered to dignify you with a response. But because you have taken it as a hobby to seek me out at any opportunity, if I do not respond, silence may no longer be golden."
"Let me crave your indulgence to state where my paths crossed with yours, the reason you have sustained your campaign of calumny against my person."
"As you would recall, shortly after I assumed office as SGF, you came to my office with one man and a bunch of documents. You told me that the documents were the company profile of the man and that you wanted me to facilitate the man getting the contract for building the Headquarters of the Code of Conduct Bureau since the Code of Conduct Bureau was under my office. I told you that I had just assumed office and needed time to understand the workings of the office. And that I do not get involved with what my Boss did not ask me to do."
"Above all, contract awards must follow due process and I was not in a position to interfere with the process. I advised you to summit to the due process for securing government contracts. You left and I did not know what else you did but somehow your man got the contract. Since then you have been seeking me out at any opportunity. You lobbied and boasted everywhere that you must remove me from office. Your mischief came to public display the day Chief Ifeanyi Ubah was launching his then Transformation Ambassadors of Nigeria (TAN) programme in the South East at Dr. Alex Ekwueme's Square, Awka."
"I was invited to the programme as the representative of the Federal Government. Midway into the programme, you and your followers stormed in and demanded that I should not be allowed to represent the Federal Government as you had gotten approval from Abuja that another person should represent the Federal Government. You jumped on the podium to force the organizers to make the announcement that I was not the person to represent Government. However, when it was time for me to speak, I was duly called upon to speak for the Federal Government and that left you thoroughly deflated."
"You may wish to recall that even as all those were going on, I neither paid any attention nor said a word to you because as a true Igbo son, I have respect for my elders. The purpose of this reply, therefore, is to advice you as follows:
*That I maintained my silence in the face of those provocations as a mark of respect for the office I occupied, and to ensure that nothing distracted me from the job I was appointed to do.
*That as a wealthy man, you should channel your resources and time to more worthy ventures. You may do well to emulate people like Alhaji Aliko Dangote or even our brother Chief Cletus Ibeto and be more useful to people around you.
"In any case, I am not surprised that you could claim that President Jonathan's administration failed in project delivery because your understanding of a performing government is one that gives contract to yourself. It is unfortunate and indeed a shame that you are now speaking ill of President Goodluck Jonathan. How ungrateful can you be."
"I will not bother myself about the performance of President Jonathan's administration because the records are conspicuous before the eyes and minds of Nigerians who are not contractors of your kind. Just for the records Julius Burger never executed any Federal Government road contract in Ebonyi State let alone any road leading to my hometown while I served as SGF. However, this is neither the time nor medium to give account of my service as SGF."
"In conclusion, it is my wish to advise you to please respect yourself and your age. Never forget that respect is earned and that as a Prince from the esteemed Ukpo community, you should have more sense of honour. You perched around President Jonathan like a hungry fly while President Jonathan was in office. Now, you shamelessly and dishonourably say derogatory words about President Jonathan. One can only bet that you will do the same to the leadership of the present administration once they are out of power. That is not in the character of Ndigbo."
"Finally, now that I am a private citizen take note that I can no longer tolerate your unwarranted attacks on my person."