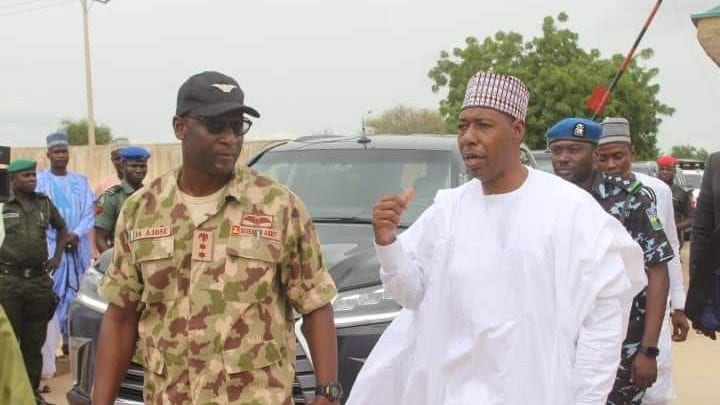 Governor Babagana Zulum of Borno State has berated the Army Sector Commander in the state after Boko Haram fighters opened fire on his convoy.
This newspaper reports that the insurgents attacked the convoy of the governor on his way to meet some internally displaced persons (IDP) camps at Baga town in Borno on Wednesday. It was gathered that no one was injured in the attack.
The governor confronted the Commanding Officer in Mile 4, mincing no words in expressing his disappointment at the inability of the military to rid Baga and environs of insurgents.
"You have been here for over one year now, there are 1,181 soldiers here; if you cannot take over Baga which is less than 5 km from your base, then we should forget about Baga. I will inform the Chief of Army Staff to redeploy the men to other places that they can be useful," Zulum said.
"You people said there's no Boko Haram here, then who attacked us?
"We have over 1,181 soldiers in Baga; 72 officers, 107 solders, 400 soldiers in mile 4 and 1,900 soldiers in Monguno. I see no reason why Boko Haram will stop operate in Baga town," he said.
"The troops have been in mile 4 for over one year, there is complete sabotage, the problem is not with President Buhari, or General Burutai but the command and control structures. There is need to look into command structure.
"We have over 80,000 IDPs in Monguno, they cannot continue to depend on NGOs and others for food, we have created opportunity for them to go back to their communities and continue with their business and farming activities.
"After Sallah, we will go back to Kukawa. We we will give time to the military; but if they will not clear Baga, we will mobilise our hunters and vigilantes to recapture Baga… we can't continue like this. People have take their destiny in their hands."
The Governor has since returned safely with his entourage to Monguno where the distribution of palliatives continues.
However, the army sector commander repeatedly informed Governor Zulum that there were no Boko Haram members in the area where the attack occurred.
This is the second known attack on Zulum's Convoy within a year. While returning from a trip to Bama local government area last year, his convoy was attacked at Konduga in Borno.
That attack happened seven months after Boko Haram insurgents targetted the convoy of Kashim Shettima, Zulum's successor, on his way to Gamboru Ngala, still in Borno.