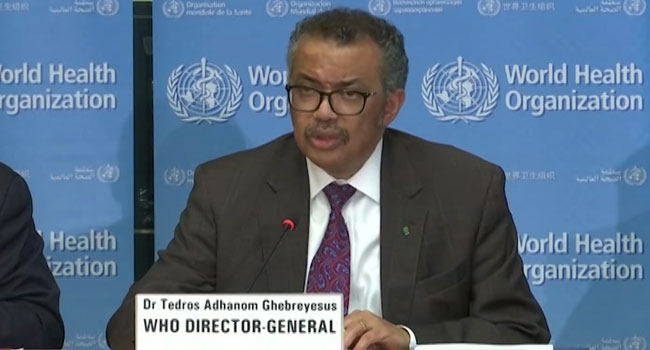 The World Health Organisation (WHO) has said no Coronavirus (COVID-19) vaccine will be allowed to be tested in Africa or on any Africans for that matter.
Director-General of the health agency, Tedros Adhanom Ghebreyesus, made this known during a media briefing on Monday.
The WHO chief berated the statement credited to two French doctors, Jean Paul Mira and Camille Locht, who said that the coronavirus vaccine be tested in Africa.
Speaking further, Ghebreyesus described the statement as "racist", a hangover of "colonial mentality" and a "disgrace" on scholars in the 21st century.
He said the continent will not be used for such an experiment except in line with the rules governing the test of vaccines all over the world.
"Africa can't and won't be a testing ground for any vaccine. We will follow all the rules to test any vaccine or therapeutics all over the world using exactly the same rule, whether it is in Europe, Africa or wherever, we will use the same protocol," he said.
"It was a disgrace, appalling, to hear during the 21st Century, to hear from scientists, that kind of remark. We condemn this in the strongest terms possible, and we assure you that this will not happen."
"When we needed solidarity these kind of racist remarks will not help. It goes against the solidarity. Africa will not be a testing ground for any vaccine." – @DrTedros in response to two French doctors suggesting a potential vaccine be trialed in Africa. pic.twitter.com/ECS9F1baPq

— Barry Malone (@malonebarry) April 6, 2020