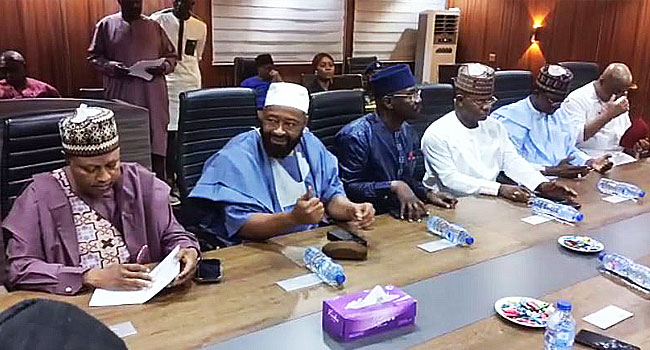 Governors of the All Progressives Congress (APC) have voiced their support for President Bola Tinubu's decision to terminate petrol subsidy.

POLITICS NIGERIA reports that they affirmed that the Tinubu-led administration is simply fulfilling one of its campaign promises while also assuring that measures will be implemented to alleviate the impact of subsidy withdrawal.

Senator Hope Uzodinma, the newly elected Chairman of the APC Governors' Forum and Governor of Imo State made the declaration on Wednesday following a meeting with the National Working Committee (NWC) led by Senator Abdullahi Adamu.

Uzodinma highlighted that both the leading opposition presidential candidates, Atiku Abubakar of the Peoples Democratic Party (PDP) and Peter Obi of the Labour Party (LP), had also pledged to remove the subsidy due to its unsustainable nature.

"As a Forum, we are committed to the ideals of the government, which is also our party. The federal government belongs to the APC; it is an APC-led government, and all the promises made in our party's manifesto during the campaigns are meant to be fulfilled," Uzodinma stated.

He further added, "On the issue of fuel subsidy, all the presidential candidates during the campaigns promised that they would remove fuel subsidy. The Buhari government, before leaving office, informed us that fuel subsidy was no longer sustainable. What we are discussing now is the implementation process – how to carry out the program in a way that will minimise the impact on the people, and I believe the government is working on it. I have confidence in the ability of the current president to make decisions that are in the best interest of our people and the country."

It should be noted that President Tinubu recently confirmed the exclusion of petroleum subsidy from the revised 2023 budget during an address at his inauguration at the Eagle Square in Abuja.

He emphasised the redirection of subsidy funds towards vital sectors such as public infrastructure, education, healthcare, and job creation.

The announcement sparked widespread reactions nationwide, with various sectors expressing their views on the matter.

Earlier, this newspaper reported that the Nigerian National Petroleum Company (NNPC) Limited officially announced the new price range for petrol in response to the president's proclamation.

The prices have been set at N488 and N555 per litre at their peak, effectively marking the conclusion of the fuel subsidy era.