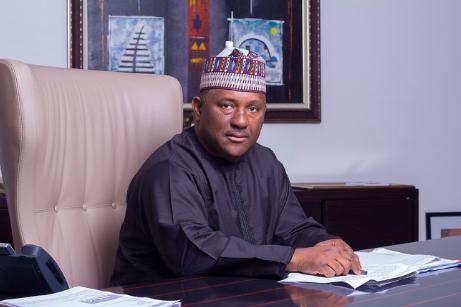 Abdul Samad Rabiu is a foremost industrialist, billionaire businessman, philanthropist and the Founder/Executive Chairman of BUA Group – a company which he founded in 1988 and has become one of Nigeria's largest privately owned foods, mining and infrastructure conglomerate with diversified investments spanning across key business sectors of the Nigerian economy.
Under Abdul Samad's astute leadership, BUA has grown steadily over the years to entrench itself as a leading player with holdings in cement, sugar, rice, flour milling and pasta (though both recently divested in January 2016), edible oils, logistics, agriculture, fertilizer production, steel and real estate. With a firmly established reputation for innovation, BUA Group is one of the largest contributors to Nigeria's GDP and among its largest employers of labour.
At a young age and armed with a degree in Economics, Abdul Samad returned to Nigeria from the United States and joined the family business, the IRS Group, until 1988 when he set up BUA Group to engage in importing and trading in major commodities like rice, edible oils, flour and also, iron and steel rods. He later ventured into steel, billets and iron ore importation and supplying multiple rolling mills in Nigeria.
Few years down the line, BUA acquired Nigerian Oil Mills Limited in 2001 which was at the time, the largest edible oil processing company in Nigeria. He was later to set up 2 flour milling plants in Lagos and Kano in 2005. By 2008, BUA, under Abdul Samad's astute leadership, commissioned the second largest sugar refinery in sub-saharan Africa.
He then went on the acquire a controlling stake in the publicly listed Cement Company of Northern Nigeria (Sokoto Cement) in 2009 and commenced the construction of the over $1billion cement manufacturing complex in Obu-Okpella, Edo State which was commissioned in 2017. Furthermore, Abdul Samad in July 2018 commissioned the US$350 million Kalambaina Cement Plant in Sokoto State with a capacity of 1.5million metric per annual to improve cement export to neighbouring countries as well as contribute to the economy's GDP. In December 2018, CCNN and Kalambaina Cement Company merged their operations in a $1.1bn transaction that was the largest of its kind in Nigeria that year.
Recent investments by the company include the $300 million, 20,000hectare BUA Lasuco Sugar Estate project in Lafiagi, Kwara State as part of the Nigerian Government's Backward Integration Policy for the Sugar Industry and the BUA Rice Mill in Kano State which is the largest rice mill in Nigeria amongst others. He also started the construction of a new 3 million metric tonnes Cement plant in Sokoto state and has completed a new sugar Refinery in Port Harcourt making BUA the only company in Nigeria with a sugar Refinery outside Lagos.
A former Chairman of Tropical Continental Bank from 1993 to 2000 and current Chairman of the publicly listed Cement Company of Northern Nigeria, Abdul Samad's ever-expanding conglomerate boasts of several subsidiaries. Today, the BUA Group has been nurtured from a relatively small company in 1988 to a world-class conglomerate.
These are in addition to heavy portfolio investments in key sectors of the Nigerian economy.
In addition to his economic contributions, Abdul Samad Rabiu, through the BUA Foundation, has also contributed immensely to various philanthropic and social development activities in various areas such as education, sports, and healthcare; with the ongoing development of a N7.5 billion 200-bed specialist hospital in Kano State
As a testimony to hard work and an indefatigable entrepreneurial spirit, Abdul Samad Rabiu is a two-time Chairman of Nigeria's Bank of Industry Board of Directors. He also sits on the board of several companies and financial institutions.
A recipient of many awards including the 2016 African Industrialist of the Year Award by the All Africa Business Leaders Awards, Abdul Samad Rabiu holds the prestigious Nigerian National Honour of Commander of the Order of Niger (CON). Abdul Samad Rabiu was recently listed as the 3rd richest Nigerian and 16th richest African by Forbes in its 2019 Rankings.
Kindly celebrate the titan as he turns 59 today..