Former presidential candidate, Omoyele Sowore on Monday reacted to the alarm of alleged threat to life raised by Ebun-Olu Adegboruwa (SAN), one of the members of the Lagos State Judicial Panel of Inquiry on Restitution for Victims of SARS Related Abuses and other matters.
POLITICS NIGERIA reports that Adegboruwa had said there were plans to terminate his life following the report by the panel that protesters were killed at the Lekki toll gate on October 20, 2020.
Adegboruwa, who represented the civil society organisation on the panel, said members of the panel are being unfairly persecuted by some state government officials.
He raised the alarm in a statement on Monday titled, 'Nigerians Should Hold Government Responsible If Anything Happens To Me'.
This newspaper had last week reported that the Justice Doris Okuwobi-led panel submitted its report to the Lagos State Government, noting that at least nine persons were confirmed dead at the Lekki toll plaza when soldiers stormed the tollgate to disperse EndSARS protesters on October 20, 2020.
The 309-page report stated, "The atrocious maiming and killing of unarmed, helpless and unresisting protesters while sitting on the floor and waving their Nigerian flags and while singing the National Anthem can be equated to a massacre in context."
Lagos State Governor, Babajide Sanwo-Olu, who received the report last Monday, constituted a Committee to bring forward a White Paper "within the next two weeks" to be considered by the Lagos State Executive Council.
Sowore, a government critic, has been outraged by the panel's report, and warned the government against trying anything shady with Adegboruwa.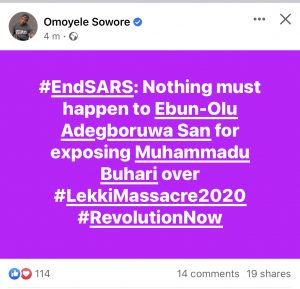 "#EndSARS: Nothing must happen to Ebun-Olu Adegboruwa San for exposing Muhammadu Buhari over #LekkiMassacre2020," Sowore wrote on his known Facebook page.