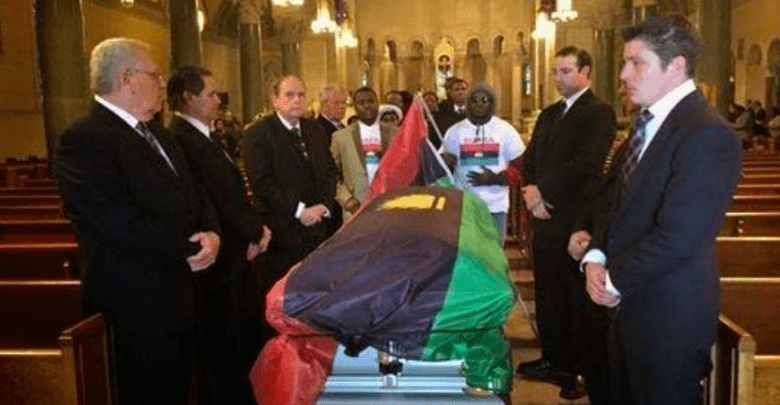 Social media – particularly Twitter has been agog in the last few days over a report that the leader of the Indigenous People of Biafra (IPOB), Nnamdi Kanu is dead. The report trended after self-acclaimed investigative journalist and blogger, Kemi Olunloyo, said that she had confirmed that Mr Kanu has was truly 'dead' and had been 'cremated in Italy.'
In a few hours, Twitter was flooded with hundreds of thousand comments and hashtag #RIPNnamdiKanu. While some of his supporters claimed the report was false, many Nigerians who did not believe in Mr Kanu's ideology felt the story was true.
The much talked about Kanu – a British Biafran political activist is the director of a UK registered radio station named Radio Biafra and has been demanding for the separation of Nigeria. Not pleased with his agitation, the Nigerian government in 2015 arrested and detained him for more than a year. He was eventually released from prison on bail in April 2017. He left Nigeria and has not returned since then.
Many were however thrown into a dilemma last weekend when a casket was uploaded with the claim that the dead body of Mr Kanu was inside. A tweeter user who posted the image said: "History will remember Nnamdi Kanu as the man that led some Igbo youths to their early graves and run away as a coward, Rest in piss Nnamdi Kanu #RIPNnamdiKanu"
https://twitter.com/Al_ameen_Yabo/status/1254768049070071808
Denial and truth
Mr Kanu's special counsel, Aloy Ejimakor was first to debunk the rumours of his death. He warned members of the public against calling him for verification that his principal is alive.
"Dear Nigerian Media: Publishing @KemiOlunloyo's DERANGED rantings about @MaziNnamdiKanu DISCREDITS you. Stop calling me to confirm whether Kanu is DEAD or ALIVE because you know very well that #KANUisALIVE & well. Watch the video below: That's #Kemi in her full glory"
Secondly, IPOB's Media and Publicity, Emma Powerful, in a statement, said Kemi Olunloyo who shared the death post first is a roadside service provider to gullible people that wants to use the name of IPOB and its leader Mazi Nnamdi Kanu, to get rich and be relevant.
More so, earlier on Tuesday Mr Kanu in a series of tweets on his official twitter handle accused the presidency of airing 'pre-recorded' broadcasts. He also accused the president of being an 'impostor'. Alas! A dead man cannot tweet.
To further substantiate where the casket emanated from, POLITICS NIGERIA did a Google reverse image of the picture and we discovered that the picture in circulation is not new and has nothing to do with the supposed death of Nnamdi Kanu.
It is rather the casket of Prof. Innocent Odenigbo, a writer and Biafran advocate, who died in 2015 in the United States of America. Therefore, there is no evidence that Mr Kanu is dead.