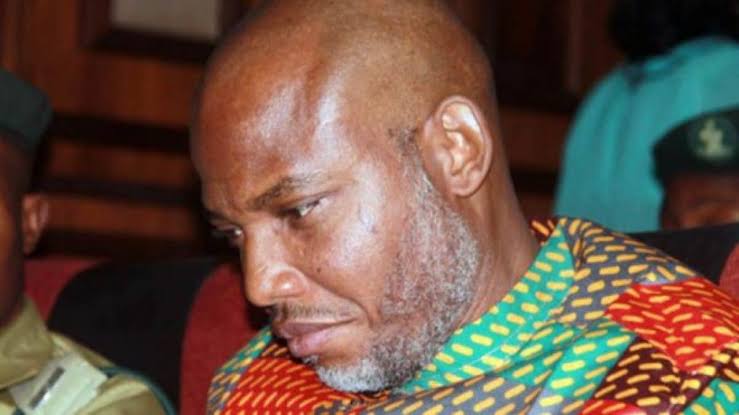 Despite his clear lies, deceit and pecuniary goals it still amazes me how IPOB's Nnamdi Kanu conditioned and played with the heads of his followers.
Kanu and his close lieutenants maintained their opulent lifestyles, squandering through contributions from his gullible followers within and outside the country. Even though Nnamdi Kanu had mastered the act of presenting different personalities to different people, it must have become obvious that he is not more than a militant activist, a destroyer of his own people (killing in the name of Biafra), a propagandist, swindler, a shady businessman and a chaser of imaginative shadows. It is alleged that he was apprehended in Kenya while attempting to collect money from unnamed sources. What an avaricious and self-centered person; a so-called leader who cannot entrust any of his lieutenants to carry out said transaction on his behalf. He perfectly fit into the quote "greed makes a man blind and foolish, as well as an easy prey to death".
Among his serial claims, were that Buhari was cloned; that he would lead a delegation to the 74th United Nations General Assembly: the false report that he attended his parents' burials in Isiama Afaraukwu, Umuahia North LGA of Abia State. One would expect that in their usual manner, a series of photo and video evidence would have been released to prove that he beat the Nigerian government's machinery but none, to date. He repeatedly told his followers he'd crush government and in days, Abuja will be destroyed. Almost like one with powers of a mythic god, through such imaginative conjectures, he keeps the attention of a misguided few.
That is how he gets them to believe he spiritually was present in Nigeria despite being a fugitive. In addition, moments after the death of Abba Kyari (late Chief of Staff to the President), Kanu claimed that Kyari had died two weeks earlier, and his body had been cremated in Cuba. Does anyone recognize the abnormality this Nnamdi Kanu is characterized with? The eventual death, transfer of body and burial of Kyari on 17th and 18th April 2020 was conducted and broadcast without any reasonable doubt, shutting up miscreants like him.
For purely personal and pecuniary reasons, Kanu has hidden under the cover of political activism to be the greatest scammer in Igbo land, exploiting his prowess to scam and cause confusion while ignoring the adverse devastating effects on the good people of the east. NK's posturing's over time has proven that he only speaks for his personal enrichment and not for Biafra. This is more so that Kanu, without any identified profession (a shop, company or any enterprise) is worth about a reported $15million and owns a house in UK.
What is even more saddening is that southeast Nigeria, once a peaceful region, characterised with a remarkable growth index is now a slaughterhouse that investors run away from, due to IPOB's destructive agitation. Just like their ally, Ambazonia Defence Forces (ADF) claimed to be non-violent and few years down the line began stockpiling arms and engaging in violent activities. Kanu had his strategy all mapped out, first he began guerrilla training of members of IPOB, then floated the Eastern Security Network (ESN), stockpiled and manufactured arms as he openly stated that 'we (IPOB) don't buy Arms, we manufacture locally'. To create further chaos, he took advantage of herders' migration to the South and the post traumatic effects of the EndSARS crisis on the Nigerian Police and amplified the situation to escalate violence in the South East. This is in no way the modus operandi of a non-violent group. He intentionally pushed forward his secessionist agenda and resorted to full-blown violence, brainwashed gullible citizens and even blackmailed and called for the maiming of security agencies in the country. While NK without any notable investment lived an ostentatious lifestyle yet is resolute on destroying the long thriving business empires in the zone.
In the attempt to sustain his psychotic theatrics, he deliberately refuses to change his counterfeit signature Fendi despite warnings by the Presiding Judge, in a bid to keep up with the expensive but fraudulent image. Some even stated that to sustain this fallacious drama, on some days he just refuses to see his lawyers, on the grounds of wanting to be represented by legal counsels of higher societal status. His lawyers have no idea that he had been desirous of switching them for others he feels more befitting of him. Without a doubt, Nnamdi Kanu is no more than a fraudster with a proven reputation of exploiting lies to build himself from insignificance. It is also instructive for his sympathizers to know that there is no victory in war; only pain, blood and death. The activities of Kanu and his cohorts have heightened public doubt, ethnic tension and mistrust over an Igbo Presidency. The blood thirsty advocacy that IPOB represents with is a gruesome reputation that characterizes their political quest. Skeptics for instance have noted that the genocide of mainly Tutsis in Rwanda was seen to have been fueled by the presence of aggrieved Hutus in authority. The actions of these miscreants have incited skepticism over handing political authority to the Igbo with elements like Kanu who could become opportunistic and force or blackmailed authorities to support a genocide against other tribes. This had happened at other climes – Rwanda, Yugoslavia etc. etc. May be the Igbo should cleanse itself and be trusted before being handed over power. This is what Kanu is forcing others to say.
Ndi-Igbo are known to be educated, enlightened, exposed, respected and the most open-minded tribe in Nigeria. It is worrisome that they seem to be standing by and watching a self-imposed Messiah try to drain their heritage for obvious pecuniary gain. The same person who dissolved a whole chapter of IPOB and in his usual autocratic manner abused its members for merely questioning his utilization of the group funds. The Igbo surely cannot be under the shackles of such leader who shows no form of empathy and regard for constituted authority. The people of the South-East should be wary of IPOB destructive tactics and their self-absorbed leader or this might just be the undoing of the region and all that it stands for. Ndi Igbo must not let this diminutive minority to drown them; they must speak up and be heard. The Igbo elite and citizens, rich and poor, men and women must take a stand to end this baseless devastation. This orchestrated attempt to steal the fortunes of hard-working Igbo sons and daughters by miscreants who hide in the diaspora only to creep in and instigate fatal drama must come to an end. Joyfully, the power to stop this lies with southeasterners as with the government