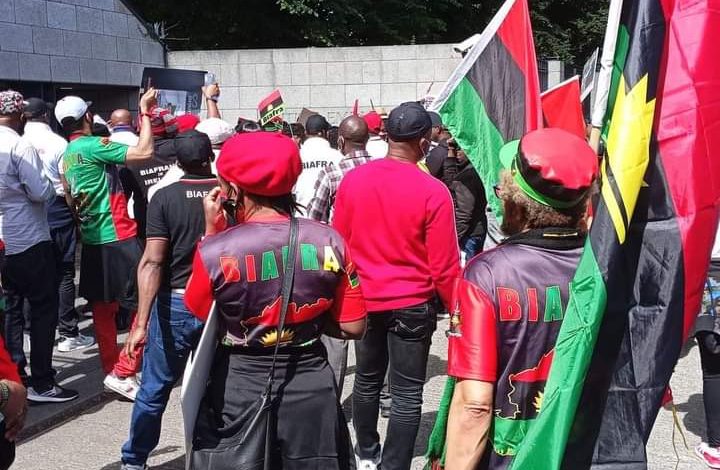 The proscribed Indigenous People of Biafra (IPOB) on Wednesday said it does not operate government in exile, warning those behind such a move to desist from using the group's name and identity.
POLITICS NIGERIA reports that IPOB also said the Biafra Radio being operated in the United States of America (USA) does not have anything with the group as it reiterated its only agitation is to get the sovereign state of Biafra and the release of its detained leader, Nnamdi Kanu.
IPOB made these known via a statement by its Media and Publicity Secretary, Emma Powerful.
IPOB's statement partly reads: "We the global movement and family of the Indigenous People of Biafra (IPOB) under the command and leadership of the great liberator Mazi Nnamdi Okwuchukwu Kanu once again reiterate that IPOB is not part of the formation of Biafra government in exile anywhere.
"Also, there are no factions whatsoever in IPOB, and we do not have any link with autopilot groups. Any group operating under whatever name or disguise outside IPOB under the leadership of Mazi Nnamdi Kanu and the Directorate of State (DOS) is on its own.
"We warn all and sundry to cease and desist from using the name of IPOB, ESN, M-Branch, or Mazi Nnamdi Kanu in their name or in any operation that they carry out. All others must answer their own names and carry out their own operations for their own objectives.
"The people behind the shambolic Radio Biafra government in exile in the USA are not IPOB members, and they should stop linking themselves to IPOB. We have often made it clear to Biafrans that IPOB has no hand in the purported Biafra government in exile.
"Those piloting government in exile in the USA are not IPOB members, and they don't mean well for Biafra freedom and restoration. They are politicians and not non-violent freedom fighting movement like IPOB."