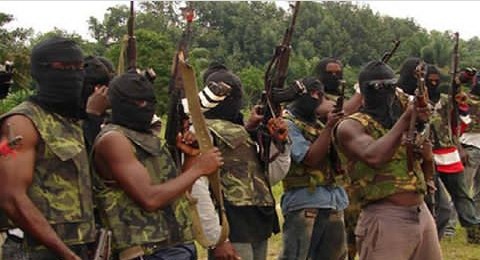 An alleged member of a group of Gunmen wreaking havoc on communities in the southeast region, simply identified as Chinasa, has been arrested by security forces in Imo State.
POLITICS NIGERIA reports that upon interrogation on Tuesday, Chinasa claimed a friend lured him into crime.
Watch the video here.
The southeast, homeland of the Igbo ethnic group, is agitating to secede from the rest of Nigeria and the outlawed Indigenous People of Biafra (IPOB) group has been leading those calls.
Early this month, gunmen killed and beheaded two soldiers in neighbouring Imo state. The government accused IPOB, which denied the charge.
Last week, a lawmaker was also beheaded after being kidnapped. His decapitated head was displayed at a park.
Similarly, on Sunday, an Hausa woman, her unborn child and her four children were shot dead in Anambra State.
The violence in the southeast is another layer of insecurity in Nigeria, where kidnappings for ransom are common in the northwest and an Islamist insurgency has been going on for more than a decade in the northeast of the country.