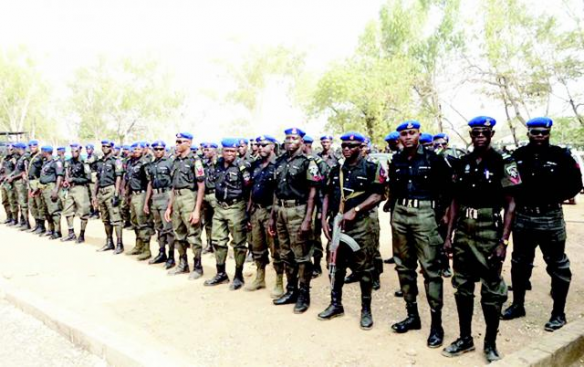 The Ondo state Commissioner of Police, Undie Adie, has vowed to punish the officers who allowed the bus conveying a Covid-19 patient entrance into the state.
POLITICS NIGERIA understands that the state recorded a new case of the coronavirus pandemic on Saturday.
According to Governor Rotimi Akeredolu, he is a police officer who tested positive for COVID-19 in Lagos and came to Ondo state while awaiting his results.
"He claimed to have returned back to Lagos. According to him, he waited a few days in Lagos to be picked up. When this failed, he panicked and rushed back to Akure for treatment. While we appreciate the confidence reposed in our facilities, We do find it most reckless on the part of the officer of the Law to risk the lives of others, " the Governor wrote on Saturday afternoon.
"I am most disappointed in the level of porosity of the entry points to the state. The police officer should know better. I have contacted the commissioner of police to double up on securing our entry points," Mr Akeredolu lamented.
Recall that the state government had earlier imposed a partial lockdown and had banned entry into the state.
Meanwhile, in a statement sent to POLITICS NIGERIA on Saturday evening, the police commissioner said he was particularly disturbed to notice that a Benue State-bound commuter bus carrying about twenty passengers from Lagos was seen in the centre of Akure.
He said he had seriously warned his men at all entering points into Ondo State to ensure no entry of any kind, except those considered to be on essential services.
He, however, said he has directed the Deputy Commissioner of Police in charge Operations to bring to book all those involved in the coverage of the routes the bus passed through until it was apprehended in Akure.
Promising to deal decisively with those found culpable in the passage of the Benue bound bus into Akure, CP Adie said it is considered the prime duty of the Nigeria Police who by their stand is the first on the frontline of internal security to live up to their bidding by performing their tasks at this crucial moment without any blemish.
According to him, "since the State government announced the first index case, I completely placed my Command on a new direction of correctness, sweeping away those with timid and unprofessional attitudes that may jeopardize the directives of the government, and I can be bold to say that we are totally keeping with the tenet of professional policing which is why the Command is working at an incredibly rapid rate in order to cover all entry points into Ondo State".
He then asked officers of the Command to put more effort into their services to the State, especially this period of trial to justify the reason for their calling.