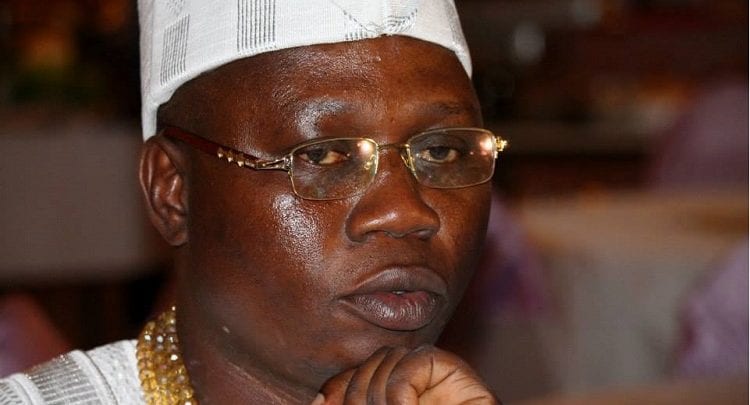 Leader of the Oodua Peoples Congress(OPC) and Aare Oona Kakanfo of Yorubaland, Chief Gani Adams has called on the Nigerian government to stop playing 'politics' and an 'ethnic card' with Security problems facing the country.
The Yoruba leader's comments are coming in the wake of the arrest of some members of the OPC for capturing a dreaded Fulani Herdsman, Iskilu Wakili.
"It is clear that the Nigerian security is not ready to protect its citizens. Nigeria security and the government are playing politics and an ethnic card on the issues of security. This is very dangerous.And if care is not taken, this might lead the country to war.", he said.
"It is very unfortunate that we find ourselves in this position. It is sad that our leaders, perhaps, the majority of them didn't fight for this democracy, hence, are handling it with levity. They are enjoying the democracy that they didn't fight for. Many of them didn't support us when we were fighting for it."
"These types of leaders don't also know how fragile democracy could be. Neither do they know the implications of not protecting the lives of the citizens, which they have sworn to do. They do not know the consequences of not upholding the tenets of democracy in a society like Nigeria.", he added.
Speaking on Wakili and the arrest of his men, Gani stated;
"What Nigerian government and the police have done on the issue of Wakili is to push us to the wall. It is to also discourage not only a body like OPC, but every living soul that will assist them to curb crime."
"That is exactly what they have done. Ordinarily, they can't do it alone. It is so glaring that the security agencies are help- less on different fronts. It is so clear that our government doesn't have the capacity to subdue criminals in the country. This is not only about the Fulani herdsmen. We have a growing spate of cultism, ritual killings and other social vices throughout the country. And when you now see the people that want to assist you, you begin to frustrate them. We cannot move forward in such manner."